Elections
Election 2018 – California's Mostly Good News
3:25 PM PST on November 7, 2018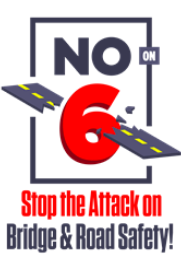 Whew! The tallies are not quite finalized. There are often a couple weeks' worth of late vote tallying, especially for local measures. Nonetheless it is time to take a look at how California voters fared on the issues that Streetsblog covers.
Below is a roundup of statewide votes, L.A. County results, and transportation funding measures. Bay Area news will receive coverage at SBSF.
Statewide
Democratic Super-Majorities
With Democrats elected as Governor, and (pending final resolution of a couple of tight races) two-thirds of the seats in both the Assembly and state Senate, prospects are promising for continuing the Democratic leadership that has positioned the state on the forefront of many progressive initiatives. The large majorities bode well for continued progress against climate change and toward a balanced transportation system, as well as resistance to federal environmental rollbacks.
Proposition 6 Defeated
The biggest California livability story is the state's rejection of Proposition 6. As of press time, 55 percent of California voters have rejected repealing S.B. 1's modest gas tax increase. Prop 6 was a Republican ploy to energize its anti-tax base to get out and vote. Though the initiative failed statewide, it may have served its purpose in that it probably helped Republican turnout in potential swing races.
As of the latest reporting on November 4, Prop 6 proponents has raised just over $5 million; opponents raised nearly an order of magnitude more at $47 million.
Though there was a broad coalition against Prop 6, among the core champions were organized labor, especially the building trades, and the building industry. Governor Jerry Brown and state democrats also stood steadfast in strongly defending their hard-fought passage of S.B. 1.
Prop 6's backers are still crying foul over the Prop 6 ballot language.  The L.A. Times reported that Prop 6's promoter Carl DeMaio complained that Prop 6 opponents "steal our votes by changing the ballot title on our initiative." It's true that the words "gas tax" did not appear on the ballot description, which leads with "eliminates certain road repair and transportation funding." But further down it did specify that it was addressing "fuel taxes and vehicle fees." DeMaio isn't finished yet; he plans to be back at the polls in 2020 with an initiative to stop California's under-construction high-speed rail.
Proposition 10 Defeated
Proposition 10, which would have enabled broader rent control, did not pass. As of press time, it has been defeated with only 38 percent voting yes. To date, opponents outspent proponents $76 million to $26 million. While there has been some debate about what tools will be most effective in solving the state's housing crises, the passage of Prop 10 will make it near to impossible to use rent control to protect vulnerable communities.
Los Angeles County
Streetsblog endorsed Measure W - an L.A. County parcel tax to fund water projects and programs - for cleaning runoff, infiltrating rainwater, and greening neighborhoods. Measure W needs a two-thirds majority, and, as of press time, it is narrowly passing with 67.48 percent approval.
The city of Santa Monica passed an anti-growth Measure SM. SM is not quite as restrictive as that city's perennial (and perennially defeated) anti-development measures in the past. It requires a council super-majority to approve a relatively small set of big, tall projects. Unfortunately Santa Monica voters did not re-elect City Councilmember Pam O'Connor, a former Metro boardmember who has been a longtime champion for multi-modal transportation choices.
There is also some cause for concern as a number of relatively well-off cities - including Burbank, Covina, Culver City, Glendale, La Puente, Lawndale, Pasadena, Pomona, San Fernando, and Santa Fe Springs - have passed local topping-off sales tax increases to stave off future county tax measures. If individual cities max out their own sales tax at a certain rate, state approval is needed to raise those limits to pass county sales tax increases. Had these sorts of copycat sales taxes been in place a decade ago, then county initiatives for Metro (Measures R and M) and for homeless housing and programs (Measure H) would have been very difficult to pass. Note that, under Prop 13, these general purpose sales taxes are raised with a simple majority, while taxes for a specified purpose require two-thirds.
Transportation Funding Measures
According to the Eno Center for Transportation, there were more than 300 transportation-related ballot measures across the nation in yesterday's election. In California, about a dozen cities and counties proposed were seeking ways to fund transportation improvements via various types of taxes, with varying results.
Several jurisdictions sought to create or renew special taxes, which requires a 2/3 vote; some proposed an increase in general sales taxes, with a promise to use them for transportation improvements. Those general sales taxes usually only require a majority vote, but it's harder to guarantee they won't go towards other general fund needs. Paso Robles tried to get around that problem by pairing a proposed general sales tax increase with a measure that would advise the city to use the revenue specifically to repair streets and sidewalks. This was an unsuccessful strategy San Francisco attempted two years ago to raise taxes for transportation. In this case too it seems to have failed.
A number of cities had measures to raise the local hotel tax. In Sausalito, the proposed increase was to be used "to address the effects of tourism by improving traffic enforcement for pedestrian, cyclist, and driver safety; and managing the number of bikes, buses, taxis." Sausalito is a destination for biking tourists, especially on the weekends, and local residents have complained of streets so clogged with bikes they can't get through them. This revenue—raised from tourists—sounds like it might be used to discourage biking in that city by the San Francisco Bay.
In Santa Cruz County, meanwhile, the voters in Capitola passed an advisory measure that stems from a contentious regional battle over an unused rail right of way. A debate has been raging about whether to preserve the right of way for potential new rail uses or convert it to a bike/pedestrian trail through the area. One sticking point is a trestle bridge in Capitola, where there isn't enough room for both rail and trail. Measure L prohibits Capitola from spending money to reroute bicycle and pedestrian access off the bridge that is at the heart of the dispute—thus moving the debate further down the road, rather than resolving the issue.
Below is a roundup of these measures, and how they fared:
Sausalito: Measure L is a hotel tax to "address the effects of tourism by improving traffic enforcement for pedestrian, cyclist and driver safety and managing the number of bikes, buses, taxis. Passed.
Dixon: Measure N is a local sales tax for street maintenance and roadway improvements, including a planned Parkway Boulevard over-crossing. This special tax needs a 2/3 vote; it's unclear at this point what the outcome is.
Eureka: Measure I is a local sales tax to fund street, road, and alleyway maintenance and pothole repair. The measure hasn't yet been called, but the Humboldt County registrar of voters reports that currently YES votes are 61.85 percent.
Los Gatos: Measure G is a local sales tax for "general city purposes" including streets. It needs to pass with 50% of the vote, and the county is reporting YES votes at 53.55 percent.
Marin County: Measure AA is a renewal of a current half-cent sales tax for transportation, including road repair, safe routes to schools, and transit improvements. It easily PASSED with 74.7 percent of the vote.
Monterey: Measure S is the renewal of a "Street and Infrastructure Sales Tax" to fix streets, sidewalks, and potholes, improve pedestrian access and safety, and repair the storm drain system. It needed 2/3 vote, and the unofficial county results say it currently is passing with 81.53 percent.
Paso Robles: Measure K and N are connected. K would increase sales taxes, thus requiring a simple majority vote, and Measure K directs the city to use that revenue specifically to fix city streets and sidewalks. The county's unofficial results have K losing, with 54.11 percent voting no, so the 72.3 percent yes on N is moot.
Rincon Ranch in San Diego County: Measure RR is a parcel tax for general street improvements. It needs a 2/3 vote, and current unofficial results shows it squeaking by with 66.67 percent.
San Benito County: Measure G is a sales tax increase for the San Benito County Roads and Transportation Safety and Investment Plan "to repair potholes and maintain roads; widen Highway 25 to relieve traffic congestion and make it safer; and improve pedestrian, bicycle, and transit options." It is currently reported at 67.88 percent of the vote.
Santa Cruz County: Measure L is an advisory measure to preserving the Santa Cruz Regional Transportation Commission's Rail Corridor and Trestle over Soquel Creek for bicyclists, foot traffic, and other forms of non-motorized transportation and prohibit expenditures to reroute pedestrians and bicyclists from the corridor. It passed.
San Jose: Measure T is a Public Safety and Infrastructure Bond to upgrade 911 system, pave roads, repair bridges. It needed 2/3 vote, and Ballotpedia is reporting it has passed with 69.04 percent of the vote
San Mateo: Measure W is a sales tax increase for roads and transit improvements. It didn't get quite the 2/3 vote it needed, and seems to have failed.
Stay in touch
Sign up for our free newsletter