BART
Dublin BART Parking Battle Takes a New Twist
3:33 PM PDT on August 8, 2017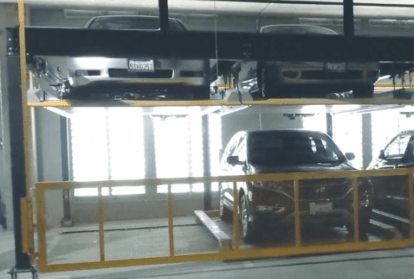 The BART board of directors did a remarkable thing recently: they voted against building a long-planned parking garage at one end-of-line station. Instead, they directed planning staff to move forward with an alternative plan that would provide the same amount of parking more quickly and with less money.
The board voted against the garage despite arguments that BART had already "promised" to build it, and despite arguments that without the garage BART ridership—and congestion on nearby freeways—would suffer. Most surprisingly perhaps, they rejected the garage despite a pledge from local Assemblymember Catharine Baker (R-Dublin) for $20 million towards the cost of constructing it.
The city of Dublin, where the garage would have been built, has expected the extension to the garage for many years. Dublin approved an EIR for it in 2002. But BART has not had the money. More recently, the board has been trying to find other ways to improve station access - ways that are more environmentally friendly and equitable than simply increasing the amount of available parking for drivers.
The system's end-of-line stations were designed with a focus on riders arriving by car. They still are, in fact, as witnessed by the new Warm Springs station in Fremont. The argument has been that providing parking is the only way to get people from communities farther out to ride BART. But that car-centric approach leaves people who want to arrive by bike, on foot, or by bus to fend for themselves in an often hostile, unsafe environment.
The Dublin/Pleasanton stations where the garage was planned, although they are terminus stations, are surrounded by high-density housing and large employment centers. But both the housing and the office parks provide large amounts of parking, so while they are within walking distance of the stations, they're not Transit-Oriented Development. They are transit-adjacent, and very car-centric.
The BART board, or at least some of its members, recognizes these complexities about parking, and have been pushing for better station access for all users. They recently adopted a new Station Access Policy that de-emphasizes parking.
Given these issues, and because there was no available funding to build the long-planned garage extension in Dublin, the board directed BART staff to explore alternatives at its February meeting.
Staff delivered.
The parking garage extension would have added 540 parking spaces. Staff came up with a mix of strategies that would make that same number of spaces available to BART riders right away. Their suggestions included reconfiguring the existing parking structure—basically, restriping to fit more spaces; formalizing shared parking arrangements with nearby businesses; and employing an Automated Parking System (APS), a stacked elevator-style parking system similar to those seen in some new housing developments.
Staff also proposed temporarily instituting attended valet parking to immediately increase the amount of space available for parking. Attended parking would make it possible to phase in APS over time, allowing BART "to test the technology in a transit setting," according to the staff report.
It would all cost less and produce results faster than building a garage, according to BART planning staff.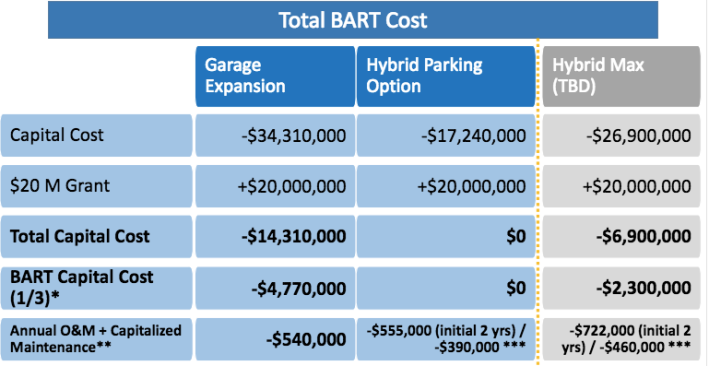 The report also recommended several low-cost measures to increase access for arriving by bike, walking, bus, or carpool:
Improve the connection to the Iron Horse Trail bike path
Construct a 130-space Bike Station
Work with surrounding cities to improve key pedestrian and bike connections and routes
Expand carpool incentive programs
Improve local bus service and access to the stations
The strategies themselves were met with both delight and resistance. Local governmental and labor representatives insisted that the parking lot was an absolute necessity—a promise that had to be kept. "We increased housing density with the understanding that BART would eventually build more parking" at the Dublin station, said Tim Sbranti, former mayor of Dublin.
BART director Robert Raburn saw an opportunity beyond just building parking. In the board's discussions of the garage, he said, "We have [only] talked about drivers getting to the station. But surrounding that station is the largest employment center in the area—over 17,000 jobs. Yet we get a only small fraction of that workforce taking BART in that reverse commute."
"The only proposal that gets at that is the hybrid proposal that includes transit access improvements," he said. "We can hit a home run by improving transit access to those 17,000 jobs. And this proposal represents an early win. We're able to deliver increased parking and build that multi-modal aspect."
For her part, BART board president Rebecca Saltzman said she was amazed that the alternative "provides just as much parking as a garage, but quicker, and at significantly cheaper cost." "If you asked community members if they want quicker parking or structured parking, I think pretty much everyone would say quicker parking. Because they want those spaces right way," she said.
"It's also clear that more needs to be done to encourage biking, walking, and transit," she said. "Obviously not everybody can get to the station without driving, but we haven't yet maximized how people can get to the station in other ways. This proposal can do that."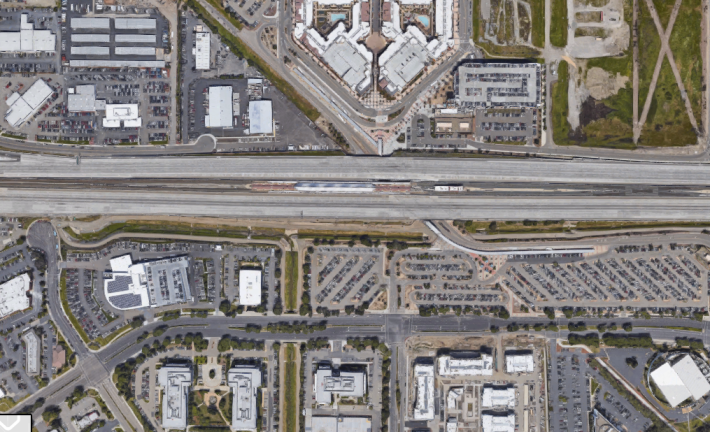 Director Joel Keller said he was conflicted. At first, he said, he was "frankly skeptical" that staff would be able to find alternatives to building the garage, but he was intrigued by what they came up with. He asked the people who spoke in favor of the garage to explain to him why that garage was better than the alternative strategy.
Tim Sbranti responded. "For us the game changer was the $20 million in unanticipated revenue [via Assemblymember Baker], that can only be used for a parking structure," he said. "We're not necessarily opposed to the other options," he said, but with those "there is uncertainty."
Keller asked, "Is there anyone else who can help me understand why—except for the money—would the alternatives not be a good idea?"
No one answered him.
"That's my conflict," he said. "I was as skeptical as anyone that we could find a cost-effective alternative to a garage, but we have done that," he said. "I'm having a hard time understanding why these options shouldn't at least be given a chance to demonstrate that there are more cost effective ways of providing parking. Certainly if this were my district I would probably be advocating for the alternative because it's cheaper and quicker."
At the meeting, questions arose about that mysterious $20 million.  Was it tightly restricted to building a parking garage? Or could it could be used for an alternative set of strategies? Both Saltzman and General Manager Grace Crunican quoted recent conversations they had with CalSTA Secretary Brian Kelly, who cautioned them that use of the $20 million was entirely at the discretion of Assemblymember Baker.
It's not clear why.
That money, said Assemblymember Baker in an interview with Streetsblog, is from the Transit and Intercity Rail Capital Program. The TIRCP was originally created with revenue from cap-and-trade and will also receive a boost in funding from the S.B. 1 gas tax increase. Cap-and-trade money must be used to reduce greenhouse gas emissions, period. Beyond that, the TIRCP is meant for "transformative capital improvements that modernize California's intercity... transit services" to achieve greenhouse gas reductions, expansion and improvement of transit services to increase ridership, integration of various rail services, and transit safety improvements.
It's hard to see how a parking garage would fit into those parameters. The terms "modernize" and "transformative" would more clearly apply to the alternative strategies BART staff have been working on.
Baker insists that the parking garage is necessary. "I've put my money where my mouth is," she said, and since she has procured the money, BART should go ahead and build the garage.
She believes that more available parking would reduce greenhouse gas emissions by encouraging people who currently drive by on the freeway to stop, park, and take BART instead. She agrees that other actions should also be taken, including encouraging carpools, shuttles, reconfiguration of the existing lot, and creating shared parking opportunities. "They should do that anyway," she said.
But she is very skeptical of other suggested strategies, especially APS and the transitional valet parking. Those, she said, would be neither efficient nor "suitable for a transit center." She also objects to the maintenance and operations costs, saying that "BART does not have a good record with elevators and escalators."
For their part, BART directors expressed hope that she could be convinced of the benefits of the staff proposal.
"I really hope [Baker] would approve funding something much better," said Saltzman.
Director Robert Raburn cut to the point. "No matter what," he said, "there is still a shortfall" in terms of money for parking, with or without the $20 million.
"I want to urge Assemblywoman Baker to work with us in delivering real needed improvements in the near term that benefit people ... who would like to be able to commute by BART—and hop on a Ford GoBike, or walk across busy Dublin Blvd to get to work," he said.
In the end, the motion to pursue the alternative strategies passed with a five to four vote, with directors Debora Allen, John McPartland, Thomas Blalock, and Lateefah Simon voting against.

Streetsblog California editor Melanie Curry has been thinking about transportation, and how to improve conditions for bicyclists, since her early days commuting by bike to UCLA long ago. She was Managing Editor at the East Bay Express, and edited Access Magazine for the University of California Transportation Center. She also earned her Masters in City Planning from UC Berkeley.
Stay in touch
Sign up for our free newsletter