CA State Assembly
Legislative Hearing on Public Transportation Woes Is Just a Beginning
4:22 PM PST on March 2, 2023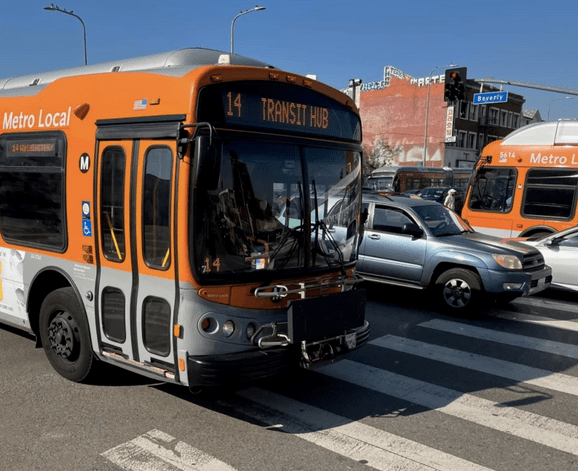 Note: GJEL Accident Attorneys regularly sponsors coverage on Streetsblog San Francisco and Streetsblog California. Unless noted in the story, GJEL Accident Attorneys is not consulted for the content or editorial direction of the sponsored content.
Public transit is in a tough spot, for many reasons, most of them far outside the control of individual agencies. This was already true before COVID upended everything; pandemic disruptions have exposed problems that had been papered over with half-hearted fixes for years. Now, the looming end of COVID-related aid for transit agencies should mean those problems can no longer be ignored.
Transit is a lifeline for many people, and its survival is important to everyone, even to drivers who can never imagine themselves using it. This basic fact was repeated in various forms at a joint hearing held Monday by the Senate and Assembly Transportation Committees, "Short-Term Crisis and Long-Term Transformation: How to Bring Back and Build Transit Ridership in California."
It was the first move in what looks to be a serious focus on transit in the state legislature this year, including the formation of a Senate Select Committee on Bay Area transit issues and a number of transit-related bills on the docket, including one from both chairs of the transportation committees to form a Transit Transformation Task Force - more about those in a future post. But one thing is clear: the problems are complex, and solutions won't come easily.
The background report provided by the committees [PDF] lays out many of the issues. They are not easy to summarize, but below is a stab at it.
Falling ridership has various causes, including shifts in pandemic travel patterns but also service cuts, concerns about safety and security, and rising car ownership rates - especially among low-income and immigrant groups that have been the most transit-dependent riders in the past.
Transit systems with a higher percentage of transit-dependent riders have seen their ridership recover more quickly from pandemic disruptions. This tracks with data showing that vehicle traffic has gone back to pre-pandemic levels, despite the overall decrease in commuters because so many workers have permanently shifted to remote work. Those who don't have an alternative, in other words, continue to rely on transit, but others are bailing.
Falling ridership in turn causes cascading financial issues, since fares make up at least some of transit agency revenue, and in some cases quite a lot. For example, before COVID, BART fares provided seventy percent of the agency's overall funding. Other agencies rely less heavily on fares. Metrolink's "farebox recovery rate" in 2019 was about 29 percent of its budget, and for some smaller bus agencies the rate can dip below twenty percent. Nevertheless, they are still a significant source of funding.
Farebox recovery rates are also the primary measure of how well a transit system is doing its job, in terms of federal and state funding programs. Agencies have to meet a certain threshold farebox recovery ratio to receive other funding, and that money is supposed to be withheld if they don't meet it - although, as pointed out in the committee background report, exceptions have helped agencies avoid that dire scenario, which could shut down transit service entirely.
According to UCLA Professor Brian Taylor, who testified at the hearing, "Farebox recovery requirements were set up as a performance measure in the 1980s to encourage agencies to build ridership." In the years since, it has caused unintended problems, including forcing some agencies to cut services when lines and routes do not meet minimum thresholds.
"If the goal is to increase transit ridership overall," said Taylor, "it might make sense to change this threshold requirement [to something else]. The government could reformulate funding and performance measures away from farebox recovery and towards the number of people being moved."
Michael Pimentel, Executive Director of the California Transit Association, said his organization has been working on this question for a long time. He pointed out that recent exceptions made to the farebox recovery rule have been useful spurs to innovation. For example, creating statutory exemptions for agencies to pilot fare-free and discount programs helped encourage agencies to try them.
"In the past, farebox recovery requirements have caused agencies to not want to try fare-free programs," he said, because offering free or reduced fares would reduce the ratio of rides taken to fares collected. "These exceptions have only been allowed in last two years," he said, and funding from sources such as cap-and-trade have helped make it possible.
"We need to start anew, with new performance metrics, but there are already ways we've seen innovation" by loosening these rules, he said. For example, there could be additional exemptions, for things like micro transit, or contactless fare payments - "which can be expensive," he said. "The question is, what will we replace farebox recovery rules with?" As a performance measure it may work for some agencies, and it fulfills an essential role, but a different measure might work better. Farebox recovery "clearly doesn't express what we think it does about transit."
What transit needs to demonstrate, he said, is travel time savings and efficiency.
Transit service has never been robust in most of the state, except in certain dense areas like the central Bay Area. State and local governments have found it preferable to invest in roads and highways rather than in transit, so almost everywhere in California driving a private car is faster and more convenient than public transit. It will take massive upgrades in service frequency, extent, reliability, and quality to convince most people to leave their cars behind and take a bus or a train, and the state has just not been willing or able to figure out how to pay for or deploy the necessary investments. All of these problems contribute to lower ridership, which contributes to a sense that "the buses are empty," as many nonriders seem to perceive it.
And rising car ownership rates - trending the opposite direction from state goals - reflect the fact that even for the most transit dependent people, time costs for riding transit are too high.
Those costs are increased by the lack of coordination between transit agencies on scheduling and fare payments and by rising housing costs especially in densely-built areas where transit has a chance of being convenient.
On top of all these difficulties, hardships faced by the growing number of people priced out of housing altogether has led some of them to seek refuge on trains and buses, especially when the weather is cold. This has caused transit agencies to try various strategies from increasing police security to acting as de facto homeless service providers, although without a mandate or funding support to do so. BART, for example, has seen its spending on homelessness - in terms of security and outreach - rising to as much as $30 million annually.
Riders who have access to alternatives see or read in the media about rising numbers of homeless people on transit and are reluctant to use it, further depressing ridership numbers.
Labor shortages have led in some cases to sudden service curtailment, further decreasing the reliability and usefulness of transit. While wages seem an obvious culprit, according to James Lindsay, a representative from the Amalgamated Transit Union who spoke to the committees, they are not the main cause of the driver shortage. Instead, dangerous conditions - including violent altercations with riders - unreasonably long shifts, and lack of support from agency heads has contributed to fewer people being willing to work as a transit operator.
Public perception is an important part of this picture, particularly since relatively few people in California ride transit. In the areas of the state with the highest transit ridership numbers, only twelve percent (Bay Area) and 4.8 percent (Los Angeles) of residents used public transit to commute to work in 2018.
That lack of personal experience contributes to a media-fed perception that transit is dangerous, dirty, and unpleasant. This is not meant to dismiss the very real concerns riders - especially women, people of color, and LGBTQ people - have about personal safety and being exposed to harassment.
But these problems don't define transit, nor do they define every transit trip. People from all walks of life still ride transit every day with no problems. It doesn't help when people who don't ride transit write op-eds about how bad transit is, or how it doesn't deserve support. Or when police unions engage in racist scaremongering about crime on the train system on social media.
Still, as pointed out by Pimentel, the public expects transit agencies to overcome these issues and continue providing needed transit service, with or without public support.
Chad Edison, Chief Deputy Secretary for Rail and Transit at CalSTA, outlined some of the actions that the state and other agencies have been taking in the last few years to solve some of the problems. These include: Encouraging and planning for transit corridors, including on the state highway system, to make transit faster and more reliable; Encouraging denser housing near transit, through statewide policy and laws; Planning for interconnecting rail networks and integrating and simplifying fare payments, which could bring all sorts of benefits to riders and the system, including faster boarding and reduced wait times, improved reliability and predictability, better tracking of transit vehicles, payments, and trips, enabling fare capping so customers pay no more than a monthly or daily pass, and reduced operating costs, among others.
It's a lot, but the stakes are high and deadlines loom, and these long-term solutions are taking forever. The climate question - and the need to make public transportation useful, safe, and convenient enough that people want to take it instead of driving a private car - are also urgent.
Monday's hearing began a conversation. Streetsblog will be tracking to see what comes of it in the next few months.

Streetsblog California editor Melanie Curry has been thinking about transportation, and how to improve conditions for bicyclists, since her early days commuting by bike to UCLA long ago. She was Managing Editor at the East Bay Express, and edited Access Magazine for the University of California Transportation Center. She also earned her Masters in City Planning from UC Berkeley.
Stay in touch
Sign up for our free newsletter