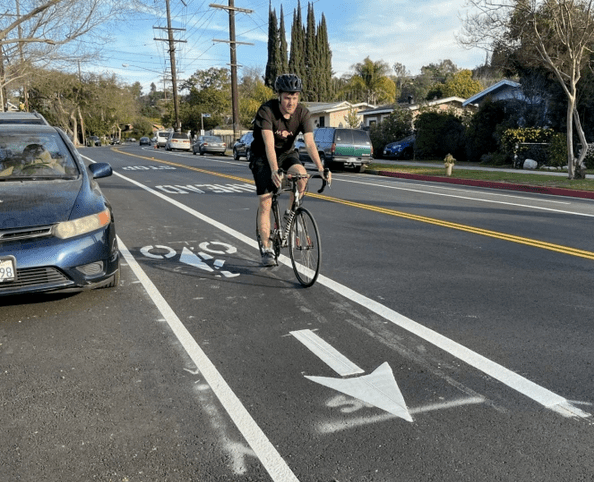 Note: GJEL Accident Attorneys regularly sponsors coverage on Streetsblog San Francisco and Streetsblog California. Unless noted in the story, GJEL Accident Attorneys is not consulted for the content or editorial direction of the sponsored content.
Update June 28: The California Transportation Commission announced that Cycle 6 ATP applications, due on June 25, are for $3.5 billion worth of projects. While not every application would be awarded even if there were enough money, there has been a consistent upward trend in quality, number, and size of projects applying for ATP funding in the last few cycles. The one-time, $1 billion added to this cycle's budget, discussed below, is still far short of the need.
Governor Newsom and the California Legislature on Sunday announced an agreement on next year's state budget. Newsom signed the budget bill, S.B. 154, Monday afternoon, meeting the June 30 deadline. The final budget agreement is contained in a series of bills, S.B. 154, plus "junior budget bills" S.B./A.B. 178 and 180 and "a substantial trailer bill package" which will further refine details.
The agreement includes releasing the much-debated (behind closed doors) $4.2 billion in bond funds for the high-speed rail program that last year's budget negotiations let drop. This move is contained in a budget trailer bill, S.B. 198.
The funds are accompanied by "legislative direction to prioritize construction of a Merced-Bakersfield segment" as a first-phase completed segment, which is in line with the California High Speed Rail Authority's plan. In addition, the trailer bill would establish an independent Office of Inspector General to provide project oversight. This is a variation on several recent attempts by lawmakers to create some kind of authority over the California High Speed Rail Authority. Those bills - to bring CAHSRA under the authority of the Legislative Analysts Office, for example, or under a legislative oversight committee - died before they got anywhere.
Given the back-and-forth on high speed rail in the past few years, in which Governor Newsom requested the legislature to release the voter-approved bond funds and Assembly Speaker Anthony Rendon refused to do so, this seemingly sudden agreement - sudden because people involved in the negotiations have been tight-lipped about them - is a little anti-climactic.
Note that while the budget has an end-of-June deadline, these "trailer bills" can still be worked on, discussed, and amended until the end of August.
Meanwhile, the Active Transportation Program, which expected to have a budget of about $650 million to program for Cycle 6, encompassing the next four years, also expected to receive a lot more requests than it could fund.
The budget agreement released last night adds $1.05 billion in new funding for Cycle 6, a substantial increase that will help fund many more projects than past rounds.
This is key, because over time the number of ATP applications that score well but don't get funding has been steadily increasing. This is why the California Transportation Commission requested an extra $2 billion from the state budget surplus, even though the same request last year fell on deaf ears. Newsom did propose to add $500 million to the ATP last year, but even that ultimately got dropped when negotiations over high-speed rail funding failed.
This year things are looking better. The ATP application deadline has passed, and more will be known soon about how many of the projects from Cycle 5 that did not get funding have reapplied. There has been some discussion about whether to revisit the Cycle 5 list if extra funding came through, but after last year's shenanigans it would not have been wise to count those chickens too soon. More information on this soon.
The budget announcement discusses a "comprehensive transportation infrastructure package" allocates $5.4 billion through 2022-23, $2.7 billion in 2023-24, and $2 billion in 2024-25 for a variety of transit, freight, active transportation, climate adaptation, and other infrastructure, including:
$3.65 billion for public transit investments now, with roughly $1.5 billion for projects in Northern California and $1.83 billion for Southern California. This includes $900 million in each region to prioritize projects that can secure federal or local funding if they have state funding lined up already
$4 billion in transit capital funding in future years allocated by formula$1.2 billion over two years for freight-related infrastructure at and around the state's ports
$1 billion in the current year for the Active Transportation Program
$350 million for high-priority grade-separation projects
$200 million in funding for local climate adaptation planning and projects
$200 million in federal funds for adaptation projects on the state highway system
$150 million for a pilot program to begin planning for the future conversion of underutilized highways into multimodal corridors
The budget also includes various climate-related investments, including clean energy, zero emission vehicles, and adaptation projects. In addition, as there was in last year's budget, there is a long list of local priority projects - some would call them "earmarks" - at the end of S.B. 178.
For the most part these are specific projects categorized into groupings such as Parks and Open Space (example: $3,800,000 to the Rivers and Mountains Conservancy for the walking trail along the San Gabriel River to the Pacific Ocean); Education (example: $3,000,000 for the New Downey Family YMCA); Public Safety and Fire Prevention; Water, Drought, and Infrastructure; Libraries and Cultural Institutions; Transportation; Housing, Homelessness Prevention, and Food Access; Health and Human Services; and Veterans.
Included below are the local priority projects listed under transportation.
$6.5M to Yolo County for the Capay Valley Community and Health Center
$5M to Cupertino for the reconstruction of the McClellan Road Bridge
$1M to the San Bernardino County Transportation Authority for a State Route 247 / 62 Emergency Bypass Lane Study
$2.1M to Burbank for the transportation, electric vehicle, and pedestrian infrastructure improvements
$4M to Los Angeles for the Griffith Park active transportation, safety, and facility infrastructure improvements
$2M to Los Angeles to revitalize and enhancing additional freeway sites and underpasses for the Toluca Lake Beautification Partners project
$2M to Oxnard for the Rice Ave overcrossing utility relocation
$1.9M to Los Angeles for the Chandler protected bike lane gap closure
$7M to Stockton for the Miracle Mile pedestrian crossing upgrades
$5M to the Metropolitan Transportation Commission for the Valley Link Rail Project
$2M to Kings County for the Kettleman City pedestrian bridge
$1.4M to the Port of San Diego to address abandoned and derelict vessels at Zuniga Shoal
$14.3M to Alameda County for the installation of roundabouts on Crow Canyon Road
$10M to San Jose for the East San Jose Corridor Safety Improvement Project
$1.5M to the San Francisco Municipal Transportation Agency for Sloat between Skyline and Great Highway
$1.2M to the San Francisco Municipal Transportation Agency for the Sloat/Skyline traffic signal
$5M to Port Hueneme for an electrical crane to for unloading cargo
$7.5M to San Fernando for the Pacoima Wash pedestrian bridge
$4.5M to Simi Valley to build a second Metrolink track
$3.2M to Daly City for Safe Routes to Schools
$2M to Paramount for the West Santa Ana Branch bikeway project
$1.3M to Anaheim towards the construction of the Anaheim Transportation Network Facilities
$1M to Milpitas for bike lanes facilities enhancement
$3M to Caltrain for a wireless optimized crossing system
$2M to Palo Alto for the replacement of the Newell Road Bridge over San Francisquito Creek
$2M to Gardena for the revitalization of Gardena Boulevard
$3M to Paso Robles for Creston Road active transportation and bike and school access improvements
$2.5M to the Monterey-Salinas Transit District for busway construction
$4.5M to Ontario for safety improvements for parks, road safety, and youth services.
$20M to the Transportation Authority of Marin to fund interim sea level rise solutions for Highway 37
$10M to the Transportation Authority of Marin for flooding issues in Marin City along Highway 101
$4.8M to Santa Monica for the Lincoln Neighborhood Corridor Streetscape to construct medians and bulbouts
$6M to Fremont for the Fremont I-680/Sabercat Bridge
$3.5M to Belmont for the Belmont Alameda De Las Pulgas Corridor Project
$250K to the Oakland Museum for a digitization project (sic? This seems to have been miscategorized)
$5M to the Bay Area Rapid Transit for elevator repair and rehabilitation
$2,2M to Del Mar for the Federal Highway Bridge Program matching funds
$2M to Clovis for a pedestrian bridge
$8M to Placer County to remove the steel and concrete wreckage of the former State Route 49 Bridge that lies in the American River
$5M to Kern County for road repairs in the unincorporated town of Woody
$9.3M to Paradise for road rehabilitation and maintenance
$2M to the University of Redlands for a plaza and walkway project at the terminus of the Arrow Rail Line in San Bernardino County
$1M to the Solano Transportation Authority for electric vehicle infrastructure in Vacaville, Fairfield, Suisun City and Rio Vista

Streetsblog California editor Melanie Curry has been thinking about transportation, and how to improve conditions for bicyclists, since her early days commuting by bike to UCLA long ago. She was Managing Editor at the East Bay Express, and edited Access Magazine for the University of California Transportation Center. She also earned her Masters in City Planning from UC Berkeley.
Stay in touch
Sign up for our free newsletter