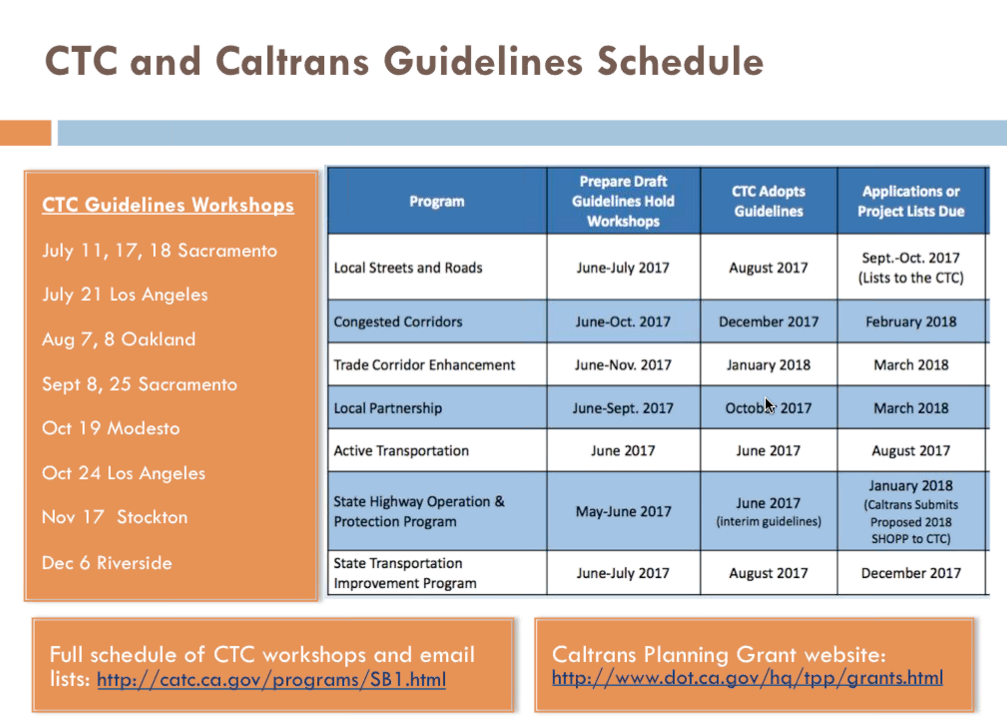 An effort to repeal California's recently passed transportation funding measure, S.B. 1, could complicate efforts to make sure the state invests this new tax money wisely.
S.B. 1, the first gas tax hike since 1994, passed the legislature on a two-thirds vote in April. It won't start collecting money from a higher gas tax until November, but there is already pressure to show quick results, partly due to Assemblymember Travis Allen's (R-Huntington Beach) push for a measure to repeal the bill.
He hopes to get enough signatures to get the measure on the 2018 ballot, which will likely be easy to do, given there are few other propositions competing for signatures at this point. Allen, who is also running for governor, will be looking to ride a wave of anti-tax rhetoric in the 2018 campaign.
Meanwhile work is ongoing to figure out how best to spend funds from S.B. 1. Workshops have begun, and are slated to continue through the fall and into next year.
While the process is accelerated, and there is a push to make quick decisions and get projects on the ground fast, there is also counter pressure to take enough time to get it right. There won't be another opportunity to raise money for transportation any time soon. Plus, it looks like even three weeks of 100-plus-degree weather can't convince Californians that they need to cut down on their driving. So it's crucial that the S.B. 1 funds are spent in ways that increase clean, active travel options for everyone, so driving isn't required every time one goes somewhere.
A coalition of groups working to ensure wise investment of state transportation money held an S.B. 1 webinar Monday. Representatives of the coalition, which includes ClimatePlan, the California Bicycle Coalition, the Coalition for Clean Air, PolicyLink, Leadership Counsel for Justice and Accountability, Public Advocates, and TransForm, outlined a set of principles for investment that they plan to submit to the state agencies involved in allocating money for the various programs to be funded by S.B. 1. At the end of this post is a summary of the webinar, with a recap of their suggestions.
The group also offered information about ways to get involved. These include attending workshops and giving feedback, sharing the recommendations below with local groups, and discussing these issues at local meetings. Weighing in on local priorities, as well as at local and regional discussions, and even coordinating local meetings would be helpful. (ClimatePlan has offered to assist with setting up local meetings; contact Christopher [at] climateplanca.org for more information.)
One of the main recommendations for each program is that the process include robust, meaningful public engagement so that projects actually reflect what people in California need and want—and also so that those communities that will be affected by transportation projects have a say in them.
One of the presenters, Veronica Garibay of the Leadership Counsel, stressed that it is especially important to ensure that any projects funded by S.B. 1 tax dollars "do no harm." "These investments need to expand opportunities for active transportation," she said, "especially in communities that are most vulnerable. And they need to make sure that those communities are not cut off from investment or opportunities that come from these tax funds."
The more people who weigh in, especially at the local level, the better the outcome. Because public engagement takes time and effort, that could increase tension between the urge to move quickly, to prove the value of S.B. 1 during what could be an ugly, anti-tax crusade, and the need to get it right.
Yesterday's webinar began with a list of guiding principles for transportation investments based on a platform of transportation justice. These principles are set forth as suggestions for all programs funded by S.B. 1. They are:
Base "highest transportation needs" on social equity principles. S.B. 1 includes language stating that its investments must go towards the state's "highest transportation needs," but fails to define what those are
Include extensive outreach and and public engagement to ensure investments match community needs
Ensure investments will reduce—not increase—air pollution and climate change impacts, especially for most the vulnerable people
Promote healthy communities
Expand access to jobs and job training
Incorporate strong performance measures tied to state goals
Support mode shifts to cleaner transportation options
Require, not just consider, complete streets for all road projects
Avoid impacts to natural lands and enhance regional sustainability
Advance housing affordability and mitigate displacement
The coalition noted that regional transportation agencies have their own agendas, and their own principles, which might be in opposition to some of the principles outlined above. That makes it all the more important for people to speak up during the workshop process.
The webinar also included a useful breakdown of all the programs that will be funded by S.B. 1, as summarized below:
STATE HIGHWAY OPERATION AND PROTECTION PROGRAM (SHOPP)
This program will get $1.9 billion annually in new funds, which will go to Caltrans to invest in state highways. These includes freeways, but also many main streets and arterials in California cities.
S.B. 1 includes language to the effect that, "where feasible," projects should include complete streets and climate adaptation considerations.
RECOMMENDATIONS:
Consult with local residents on project development to meet local needs
Improve walk, bike, and bus facilities during road repair
Prioritize the safety of vulnerable users by reducing speed and calming traffic in neighborhoods and developed areas
Include green infrastructure to mitigate climate and environmental impacts
LOCAL STREETS AND ROADS PROGRAM
$1.5 billion annually in new funds, distributed to cities and counties by formula, for pavement, bridges, and drainage projects on local streets. This program includes a minimum pavement condition target, and once that is reached, a jurisdiction can use the funds for other transportation capital projects
RECOMMENDATIONS:
same as above
ACTIVE TRANSPORTATION PROGRAM
$100 million annually to the California Transportation Commission (CTC) to increase walking and biking, improve safety and public health, and reduce greenhouse gases. A minimum of 25 percent of the funds must benefit disadvantaged communities.
The CTC plans to award new funds now to projects that applied for Cycle 3 but didn't get funded, and to revise guidelines for Cycle 4, which will start in 2019, to encourage more transformational projects.
LOCAL PLANNING GRANT PROGRAM
$25 million per year to Caltrans for competitive grants with the objective of expanding and improving planning for sustainable communities. An early draft of guidelines is expected later this week, and applications will be due October 20.
RECOMMENDATIONS:
Set aside half of the funding for disadvantaged communities
Align scoring criteria to climate, health, equity, and environmental goals and make it clear how they are prioritized
LOCAL PARTNERSHIP PROGRAM
$200 million per year. The object is to reward those counties that have voted to raise local taxes for transportation purposes, the "self-help counties," by distributing half of the money by formula to self-help counties, and half to the CTC for competitive projects. This is a new program; workshops will be held in August and final adoption of the guidelines in October.
RECOMMENDATIONS:
Align performance criteria with equity, health, and climate goals
Limit highway expansion projects and invest in transit, bike, and walk improvements
Direct benefits to residents of the community
Use road rehabilitation projects for complete streets
SOLUTIONS FOR CONGESTED CORRIDORS PROGRAM
$250 million per year to the CTC, for competitive grants. One of the objectives of the program is to increase transportation choices in highly traveled corridors. Projects awarded must already be included in a regional transportation plan. Projects that include capacity expansion are not excluded, so this money could go towards projects the induce travel.
RECOMMENDATIONS:
Focus on person-throughput rather than vehicles; make sure projects reduce vehicle miles traveled
Limit highway expansion and instead invest in parallel transit, bike, walk projects, not just on the corridors but in surrounding areas
Direct benefits to communities impacted by congested corridors, not just the people traveling on them
Avoid displacement and support affordable housing
Require robust public engagement, especially in communities that are bearing the brunt of impacts from congested corridors
TRANSIT AND INTERCITY RAIL CAPITAL PROGRAM
$245 million per year for competitive grants to improve transit and rail service with capital projects (such as new trains, rails, etc.) This program already receives cap-and-trade money and thus is subject to legislation that requires at least 25 percent to benefit disadvantaged communities, and all projects must contribute to a reduction in greenhouse gases.
RECOMMENDATIONS
Ensure that investments benefit communities and reduce vehicle travel
STATE TRANSIT ASSISTANCE PROGRAM
$290 million annually to local and regional transportation agencies, distributed by formula. The objective of the program is to improve and preserve existing transit service.
RECOMMENDATIONS
Focus funding on improving operations, not just capital projects. This is one of very few sources of money for operations, and a lot of agencies have cut routes and increased fares in the past decade, particularly in low-income areas. This funding should be used to counteract those past actions
Include robust local community participation
TRADE CORRIDORS ENHANCEMENT PROGRAM
$300 million per year to CTC for competitive grants. The objectives of the program are to move more goods more quickly, relieve bottlenecks and congestion along trade corridors, and reduce environmental, air quality, and community impacts along those corridors.
The plan is to allocate forty percent to Caltrans, which may go towards rail grade separations and highway interchanges, and sixty percent for regional projects. However, nothing has been decided yet; the first workshop on the guidelines for this program will be held on July 17.
There is concern that some highway "improvements" can become capacity increases and widenings. This program is not subject to the same "fix it first" rules as the rest of S.B. 1, and money can be used for new construction. In addition, money from other sources still funds highway expansion in the name of congestion reduction for trade corridors, despite what research has to say about induced travel.
RECOMMENDATIONS:
Meaningfully reduce air pollution and other negative impacts from freight
Limit highway capacity-increasing projects
Establish a transparent scoring system that makes it clear what the program's priorities are and how they will be reached
Invest in zero-emission technologies and practices
Ensure impacted residents have input on project development
WORKFORCE DEVELOPMENT PROGRAM
$5 million per year to the Workforce Development Board to support pre-apprenticeship training programs that prioritize women, people of color, disadvantaged youth, local residents, and other underrepresented groups.
RECOMMENDATIONS
Ensure the program serves individuals facing barriers to employment
Monitor who is able to access jobs

Streetsblog California editor Melanie Curry has been thinking about transportation, and how to improve conditions for bicyclists, since her early days commuting by bike to UCLA long ago. She was Managing Editor at the East Bay Express, and edited Access Magazine for the University of California Transportation Center. She also earned her Masters in City Planning from UC Berkeley.
Read More:
Stay in touch
Sign up for our free newsletter