CA State Assembly
Legislative Update: "Idaho Stop" and Pedestrian Signals to Be Heard Next Week
4:08 PM PDT on May 4, 2017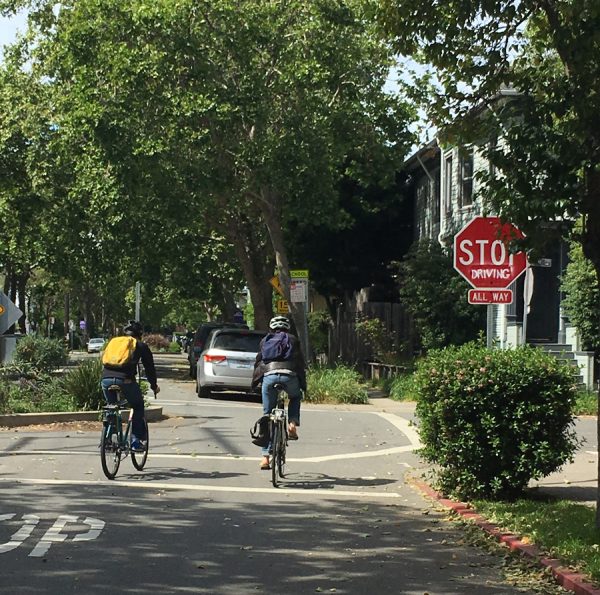 Two bills very pertinent to bicyclists and pedestrians are set for hearing at Monday's Assembly Transportation Committee: one would allow bikes to treat stop signs as yield signs, and the other would make clear that pedestrians are allowed to cross while their signals are counting down.
IDAHO STOP LAW
The authors of A.B. 1103, Phil Ting (D-San Francisco) and Jay Obernolte (R-Hesperia), bring bipartisan support to a bill that rationalizes the vehicle code for people riding bikes.
Obernolte says he became interested in the issue when he first heard about the so-called "Idaho stop law," which has been in place since 1982 and allows bicyclists to treat stop signs as yield signs. In Idaho, a bicyclist must still slow down and check for other traffic, and the right of way rules are no different. But riders can slow down, pause, and negotiate the right of way, without being required to come to a full and complete stop, especially if there is no other traffic.
Before that, said Obernolte, "I was not aware that other states had tried this. So I did some research; I found the UC Berkeley study, and others, that support the idea that this could save lives—that it is far safer to do it this way than the way CA currently has its laws."
The UC Berkeley study is the work of Jason Meggs, who researched the law while completing a dual Master's degree in environmental health science and city planning.
Meggs found reports that indicated that after the law passed in Idaho, bicycle injuries fell 14.5 percent. He also compiled data on fatalities per bicycle commuter, and his results showed that "over the last fifteen years, Idaho is half as dangerous as California," he said.
Meggs also searched for a city comparable to Boise, Idaho, to do a thorough comparison between a city with the law and one without. The best parallel he found was Sacramento, California. Not only do the two cities have similar weather and topography, he said, "They have similar land use structures; they both have a river going through them; they are both capital cities with many one-way streets. They both have relatively high levels of cycling and bicycle commuting" —not high, he pointed out, just higher than most other U.S. cities—"and there are many children and college students on bicycles. All those things and more matched up very well" between the two cities, he said.
"And lo and behold, in terms of injuries per commute, it's twice as dangerous in Sacramento as in Boise," he said.
"Of course there are other differences between the two states," he said, "and I'm not claiming that the Idaho stop law caused the difference in injury rate. But it's very clear that the Idaho stop law is not causing mass carnage. Everything I found supports the idea that this bill should increase bicycling and reduce injuries."
There are many possible reasons to explain why allowing bike riders to treat stop signs as yield signs is safer. One is that it can clear up uncertainty about what behavior is expected. Current enforcement of stop sign law is inconsistent, and frequent stop signs along bike routes are enough of a hassle that many otherwise law-abiding cyclists don't stop when there is no cross traffic. Changing the law to legalize rational, safe behavior choices could also remove excuses for the kind of uneven police enforcement that leads to incidents like the recent jaywalking beat-down that happened in Sacramento.
Such a law would also allow bikes, which are fundamentally lighter and more agile than cars, "to get out of the way and clear intersections where there is an opening," said Meggs. Because bicyclists lose momentum when they come to a stop, they spend more time in an intersection and take longer to clear it than most cars, which adds to the potential risk of injury. This could also reduce delay for motorists, as well as reduce their risk of colliding with a bike.
"Intersections are the riskiest places for bicyclists," said Meggs, "and the faster we can clear them the better."
"There are a lot of risks bicyclists face that have little to do with stop signs," said Meggs, "but more do to with whether other people see us or not. Bikes are more like birds; momentum is our friend. A bike rider can more easily slow down, speed up, and gracefully glide through" an intersection than a car can.
There are also a lot of good reasons for a bike rider to avoid coming to a complete stop, despite what car drivers may believe. "For someone on a bike, every stop take a lot of extra time and energy, as well as wear and tear on the body and risk of injury. There's an extra strain on knees." And if you're carrying any kind of load, for example on a cargo bike, it is much "easier to keep going, even if very, very slowly, then to start up from a complete stop," he said.
But, noted Meggs, the bill "does not change the right of way law. Bikes can roll through [a stop sign], but they don't take precedence when someone else is there—whoever is there first still have right of way."
Specifically, A.B. 1103 would
authorize a person operating a bicycle approaching a stop sign, after slowing to a reasonable speed and yielding the right-of-way, to cautiously make a turn or proceed through the intersection without stopping, unless safety considerations require otherwise.
For his part, Assemblymember Obernolte sees other benefits from the bill. He hopes that making streets with a lot of stop signs more attractive to bike riders "will incentivize bike traffic to divert off arterials and travel on slower side streets. They aren't there now, because of the stop signs," he said. "That would encourage a more compatible mix of bikes and cars, especially on quiet streets," he said.
And another big reason to change the law is that "a lower incidence of crashes will encourage more people to try biking, which will help California meet its greenhouse gas emission goals," he said.
His fellow author, Phil Ting, represents San Francisco, which tried—and ultimately failed—to reform local enforcement of bikes stopping at stop signs. The law itself needs to be changed at the state level, however.
When asked about the chances of the bill's passing, Obernolte said, "It's hard to handicap that. But when you have a Republican from one of the most conservative parts of the state joining with a Democrat from one of the most liberal parts of the state, that's a good indication you have a strong, bipartisan bill." He is, he said, "cautiously optimistic" about the bill's chances.
On the other hand, the same organizations that recently opposed a bill to allow the use of speed enforcement cameras in a pilot program—the California Police Chiefs Association and the AAA—are also opposing A.B. 1103. That's no surprise, really. Unfortunately those groups seem to pull a lot of weight, and they succeeded in stalling the speed camera bill.
PEDESTRIAN SIGNALS
The other bill to be heard on Monday, A.B. 390, would clear up a different gray area, this one affecting pedestrians at crosswalks.
Current law states that pedestrians facing a flashing or steady "Don't Walk" or "Wait" signal may not start to cross an intersection, but newish countdown signals that have gone in around California aren't covered by the law.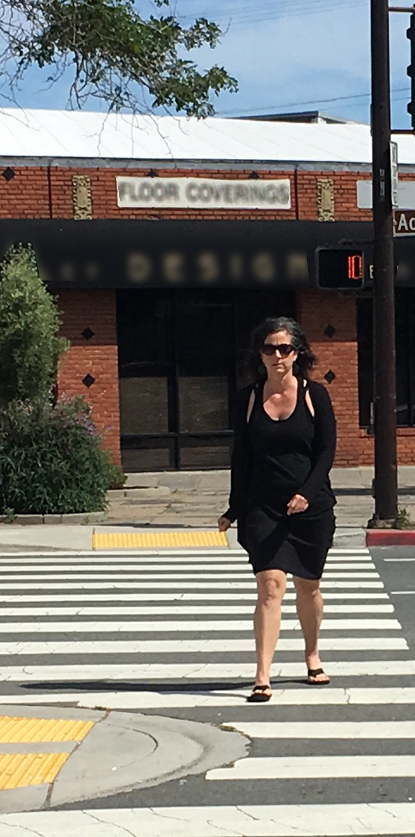 From a pedestrian's point of view, it's pretty clear that the countdown is just a more accurate source of information about the time remaining to cross a street than a random flashing hand. The countdown number varies with the width of the intersection—it can be as long as 26 or even 30 seconds, if the crossing is especially wide. Since some people can make it across more quickly than others, presumably the decision would be left up to the person crossing as to whether they can walk fast enough or not.
But in some areas, like downtown L.A., the police have applied the law as currently written to countdown signals, and have ticketed people for jaywalking when they step off the curb after the countdown starts. It's pretty ridiculous.
But A.B. 390, authored by Miguel Santiago (D- Los Angeles) and, again, Ting, would clarify that the intent of those signals is to give information to pedestrians:
This bill would authorize a pedestrian facing a "countdown" signal to proceed across the roadway in the direction of the signal if there is sufficient time left on the countdown to reasonably complete the crossing safely.
Currently there is no formal opposition to A.B. 390.

Streetsblog California editor Melanie Curry has been thinking about transportation, and how to improve conditions for bicyclists, since her early days commuting by bike to UCLA long ago. She was Managing Editor at the East Bay Express, and edited Access Magazine for the University of California Transportation Center. She also earned her Masters in City Planning from UC Berkeley.
Stay in touch
Sign up for our free newsletter