Elections
Transportation Sales Tax Measures on the Ballot: Sacramento's Measure B
1:51 PM PDT on October 14, 2016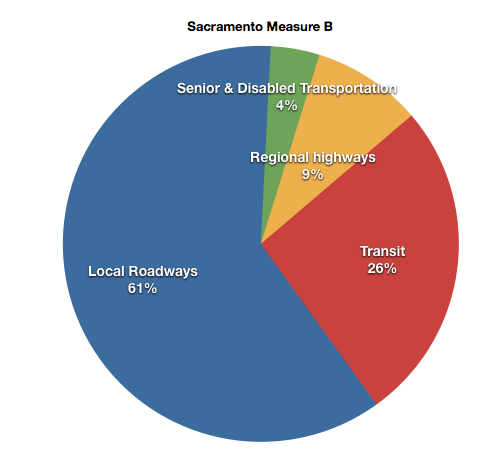 Sales taxes may not the best way to fund transportation, but there are fifteen new sales tax measures on November ballots in California.
Streetsblog has already written about similar measures in Los Angeles and the Central Valley, and will be covering Bay Area ones in the coming days. Here, we take a look at one that covers the Sacramento region.
Sacramento's Measure B, a half-cent addition to the sales tax, is estimated to bring in a total of $3.6 billion over thirty years. It got a start last spring with a poll conducted for the Sacramento Transportation Authority (STA) that showed it had a decent chance of passing. The parts of the proposed measure that polled the highest were an emphasis on "fix-it-first" maintenance and repair, and support for transit and pedestrian safety.
So the final wording of Measure B includes requirements that repair and maintenance top the list of projects it funds. That is, for the first five years of its existence, some of the revenues from the measure must go first towards fixing a backlog of maintenance issues. This is the only county transportation measure that we've found that has a similar requirement.
For example, about sixty percent of the total revenue will got to local streets and roads (see chart above), meaning it will be allocated to seven local cities and the county to invest in their individual, STA-approved plans. During the first five years, three quarters of that amount must go towards maintenance and rehabilitation to get streets to a certain level of repair (a Pavement Condition Index of at least 70). Projects that improve safety and access for pedestrians, bike riders, and transit users are eligible as part of the pavement rehabilitation.
This certainly seems to front-load much-needed bike and pedestrian improvements, which is why some local advocates, including Sacramento Area Bike Advocates, are supporting Measure B.
But there are a few caveats. For one, it leaves 25 percent of the funding available for other projects, as defined in a local jurisdiction's plan—among which are some road widenings. And the fix-it-first requirement only lasts for five years, or until a municipality achieves smooth enough roads, whichever comes first. In the case of Elk Grove, a newish city, that could be before the five years are up, because that city's roads are not in as bad of shape as in other areas.
In the case of the county, which maintains roads in unincorporated areas, reaching the pavement index goal may take longer.
In either case, once the five years are over or the city reaches its pavement goals, it can turn its attention to other needs. And Elk Grove's expenditure plan, for example, includes several road widenings.
What those cities focus on is the subject of local decisions, and advocates will need to stay involved in how those plans are formulated for the best results. Most of the cities already have some kind of bicycle and/or pedestrian master plan, and they include its implementation in their expenditure plans, but the quality of those plans, and whether they reflect resident's needs, is subject to local decisions. If they are incomplete or don't reflect a community's desires, that needs to be fixed quickly.
In addition, the nine percent of revenue set aside for regional highway projects has no fix-it-first requirement. Those projects, in the name of congestion relief, will add lanes to the Capital City Freeway and build a new expressway through Elk Grove.
The 26 percent of revenue set aside for transit—about $900 million over thirty years—also has a "fix-it-first" commitment written into the expenditure plan for the Sacramento Regional Transit District (RT). It includes buying new buses and new light rail vehicles, upgrading fare systems, and fixing some safety and operational upgrades. The measure will also fund several service expansions, including new vehicles on the light rail line to Folsom, a new light rail line connecting to the Sacramento Airport, and a Bus Rapid Transit extension to Elk Grove.
Andrew Kehoe, campaign manager for Yes on Measure B, says RT has to focus first on fixing what doesn't work because RT has been beset with financial problems and it needs to "right the ship."
"Getting everything balanced first" is how they see it. "Once we have buses that work, we can redo our route timing, and a better operational budget will allow us to re-evaluate bus service," he said. He acknowledged that past service cuts have caused problems, and that "the first mile/last mile question" remains a huge issue.
 The idea is that those ongoing problems can be solved with existing funds, which will be freed up once Measure B money starts rolling in.
Others don't think this is good enough. Katie Valenzuela, an advocate and local resident working with a group of concerned residents of underserved communities, is one of them. She points out that while it's good there is some money in the measure for transit, it won't be enough to make up for past service cuts or current fare increases. "Fares are slated to go up to $7.50 per day on the bus, and $125 a month for light rail," she said, "which I think are the highest fares in the state. A lot of people have to take more than one bus because of reduced service over time, and since transfers have been eliminated, you have to buy a day pass."
In addition, she said, past service cuts have drastically affected some underserved communities. "RT is not serving the communities that need it," she said. She described stories of people who have to walk five miles to catch a bus, or spend an hour and a half to travel three miles—people who don't have other transportation choices.
This lack of service is also likely to lead to more driving, which is not in the best interests of anyone and undercuts state climate change goals.
In the meantime, said Valenzuela, RT is focusing on areas that are already pretty well served, like the downtown area. RT has "increased service to the new [downtown] Kings Arena; they're giving free passes to riders who have a ticket for an event there; they have huge banners advertising how great it is to ride transit to the Arena. Where's all that money coming from? The transit dollars in this measure won't benefit fare reduction or increased services where they are needed."
Valenzuela recognizes the need for a sales tax measure, but is not happy with Measure B. "When they first did their polling," she said, "their numbers showed strong support for a measure that focused on bikes and pedestrians and transit. So why don't we have a measure that does more for transit?"
"I think our decision makers are less progressive than the electorate," she said.
She is also skeptical about what will happen after the initial five-year "fix-it-first" period is over. "We've never seen a spending pattern that shows it might not go to roads after that time," she said. "There's no safeguarding [in the measure] to protect against sprawl. The mailers all talk about how it's going to make things better for bicyclists and pedestrians, but they're leaving out all the other stuff, the road widenings, that will also be funded and that will actually make things worse for other road users."
The Yes on Measure B campaign argues that the fix-it-first requirement is a good thing. "People seem to gravitate to this idea: 'What about after the first five years?' but I think this distinction is irrelevant when compared to the lack of funding overall," Kehoe wrote in an email. "If the Sacramento Transportation Authority had not put this requirement in there, then we wouldn't even be talking about whether or not there would be a legitimate effort on maintenance and repair. Road maintenance [needs are] not going away and Measure B is built on that idea: local funding for local maintenance."
"The reality is that normal sources of funding for local road maintenance are drying up and counties across CA have responded accordingly," he added. "Sacramento is the only jurisdiction to codify a set requirement of funds for maintenance."
Valenzuela says that what Measure B needs to make it stronger is a public commitment from STA to prioritize spending along the lines of what residents have asked for: a focus on transit and active transportation, especially in underserved areas.
"As a condition for funding, at the very least local jurisdictions should be required to adopt bike and pedestrian master plans" with robust public input, she said. "They're asking me to trust them, but they haven't give me any reason to."
In the end, she said, "I would rather see us not pass this [measure] this year, and figure out something better for 2018."
Advocates fear that if Measure B doesn't pass in November, there may not be another chance to raise much-needed transportation money. But Valenzuela is worried that if the measure passes, the Sacramento area will be stuck with a less-than-optimal transportation investment plan that doesn't reflect residents' needs for the next thirty years. "We're already taking a bigger chance than anyone in the community is comfortable with," she said.
Details on the Measure B investment plan are available here, and a brochure outlining the transit spending plan is available here.
Streetsblog California editor Melanie Curry has been thinking about transportation, and how to improve conditions for bicyclists, since her early days commuting by bike to UCLA long ago. She was Managing Editor at the East Bay Express, and edited Access Magazine for the University of California Transportation Center. She also earned her Masters in City Planning from UC Berkeley.
Read More:
Stay in touch
Sign up for our free newsletter