State Capitol Updates
CalBike's 2023 Legislative Recap: Big Wins for Active Transportation
Six bills signed; two to keep an eye on; two vetoes; four bills for next year; and six that didn't make it.
12:06 PM PDT on October 18, 2023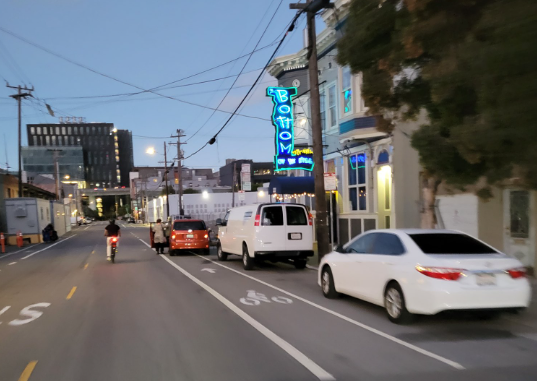 Editor's note: This post originally appeared on the California Bicycle Coalition's site.
Of the bills the California Bicycle Coalition supported that made it to the governor's desk, six were signed into law, and two were vetoed. Several active transportation measures were put on hold before the end of the legislative session, becoming two-year bills, and some did not make it out of legislative committees.
Overall, it was not a good year for decriminalization measures that sought to bring more equity to the enforcement of minor infractions and fare evasion. And the budget shortfall delayed measures such as the proposal to give free transit passes to students.
Here's the full recap of bills CalBike supported and monitored in the 2023 legislative session.
Six bills signed into law
Two new laws we're watching
Two of the active transportation bills the governor signed were on CalBike's watch list of bills we weren't opposing but weren't actively supporting. We'll be keeping an eye on these new laws to pressure agencies to implement them in ways that support rather than hinder people getting around by bike.
Two disappointing vetoes
Governor Newsom nixed the two decriminalization bills that made it through the legislature, displaying a bias toward listening to the voices of law enforcement groups rather than transportation justice advocates - or evidence of what is and isn't effective at crime prevention. 
Budget wins for active transportation in a lean fiscal year
Because of the projected budget shortfall, the governor's initial budget cut $500 million from active transportation funding. CalBike rallied our supporters to ask the legislature to restore these critical funds, and our representatives listened. The final budget restored all the funding, and, as a result, the Active Transportation Program was able to greenlight more worthy projects to make biking and walking safer. 
In addition, a funding trailer bill allocated $80 million to the California Air Resources Board for clean transportation programs. CARB's draft budget puts $18 million of that amount toward more e-bike incentives. Thanks to CalBike supporters who emailed CARB in support of this allocation. It still needs board approval before it's final, and we'll let the CARB Board of Directors know this measure has our strong support.
The same budget trailer bill also included funding for the Transit Transformation Task Force (A.B. 761, Friedman), which will develop policies to grow transit ridership and improve the transit experience for all users.
As we celebrate these wins, we're already working on our budget priorities for 2024. Once again, we'll be asking the state to shift more transportation spending from freeway expansion to Complete Streets and other projects that support the transition to the greenest transportation options: biking, walking, and public transit.     
Four two-year bills
Four bills CalBike supported became two-year bills. These bills need to be out of committee by January 2024 to have another chance to become law in the next legislative session.
Six bills that didn't make it
Good ideas sometimes take more than one try to make it into law. The process often involves revising the provisions of a bill in consultation with stakeholders and the governor's office. In some cases, it's a question of timing and the political climate.
RIP for six excellent bills that didn't make it out of the legislature. May they rise again.
Stay in touch
Sign up for our free newsletter