Bicycling
State E-bike Incentive Program Is Still a Ways Off
5:09 PM PST on February 9, 2023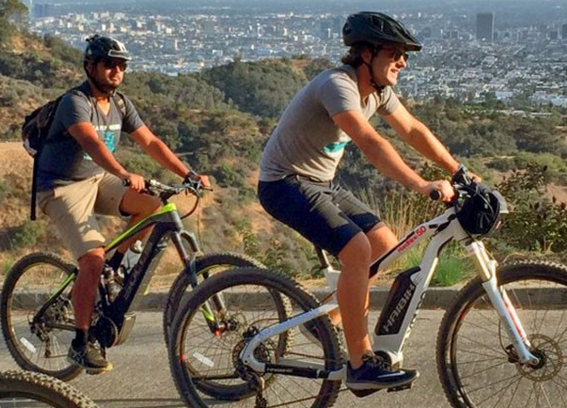 The California Air Resources Board was supposed to have launched the state's $10 million e-bike incentive program by now, but delays in signing a contract with the administrator and the glacial pace of planning at CARB - plus the sheer number of questions that need to be addressed - have put off program launch until at least April.
Since the program will be "entirely CARB led and designed," according to CARB staff, many of the lingering questions should probably have been worked out before applications for an administrator were called for. Instead, they advertised for an administrator in April, 2022, thus meeting their statutory deadline to do so, then "went dark" (their words) so as not to overly influence the outcome of the application process.
That meant months went by before CARB began holding public workgroups on the many topics it must decide in order to shape the program, such as how big the individual incentives should be, who would be eligible for them, what kinds of e-bikes would be eligible, who would supply the e-bikes, what training, education, and support would need to be provided, how priority populations will find out about and access the incentives and the e-bikes themselves, and a myriad of other topics that people with a range of e-bike experience are willing to give input on.
The most recent workgroup meeting, held online last week, confirmed that some of these topics have been at least partially settled. For example, the state program will definitely be a voucher system of some kind, not a rebate, to make it easier for people who can't front the entire cost of an e-bike.
The program will prioritize low-income people and those living in disadvantaged communities, in line with other state programs. All three classes of e-bikes - pedal assist only, pedal assist with throttle up to 20 mph, and pedal assist up to 28 mph - will be eligible, and there will likely be a higher incentive available for people who opt to buy a cargo bike. In addition, people will be able to buy bikes through a local shop or an online retailer with a physical presence in California. Bikes are to be assembled by the seller, with no extra fees added for that service, and must come equipped with lights.
There is a lot of pressure to get the program right. The California Bicycle Coalition, which has been tracking and disseminating information (but has no direct role in decisions or in running the program), maintains a rapidly growing list of people (more than 13,000) interested in the incentives. Many people have been participating in the workgroups CARB has held, offering thoughts on safety, maintenance support, e-bike types, price, and suppliers, among many other topics.
The current plan is to for incentives to be granted on a first-come, first-served basis, with applications prioritized towards people meeting income and community eligibility requirements and any money left after that going to people who applied on time but don't meet those requirements. Of course, that means that how the incentives are advertised and talked about and to whom is crucial to the success of the program's equity goals.
Whether this is a strong point of the chosen administrator is in question. That organization, Rider Safety Visibility - referred to by CARB as "Pedal Ahead," which is the name of a program run by RSV - "was able to demonstrate they understood e-bikes, the e-bike market, and running a successful e-bike program," according to CARB staff. But its plan for reaching out to potential applicants, at least according to its application materials, is vague at best, and focuses more on vetting participants than finding and encouraging them.
Questions have also been raised about how well the organization communicates with and supports participants of the Pedal Ahead program, which, contrary to statements in the press and on its application materials, is not a basis for the state program. Pedal Ahead loans e-bikes to participants and, in exchange for riding at least 35 miles a week, as tracked by an on-bike app, after two years they get to keep the bike.
One Pedal Ahead participant who requested anonymity told Streetsblog she has been happy to have an e-bike through the program and that, at first, she used it a lot. More recently, however, she reports riding less for various reasons, including multiple flat tires, feeling defeated by dangerous street conditions, and an inability to access regular maintenance. She has had trouble getting help from Pedal Ahead staff, she says, and has received little in the way of support or training. In addition, she hasn't been able to find anyone on staff who speaks Spanish, or any printed or online information in Spanish.
"Because I work with community members and low-income people of color, I tend to think of what can be improved," she said. "Right now I don't see the program has a focus on [equity or support]."
And while COVID might be to blame for some of those hiccups - for example, plans to hold regular community maintenance events had to be shelved - support in terms of training and maintenance and education about how and where to ride bikes is absolutely crucial for the success of this program. The issue of bike repair and maintenance is a safety issue - e-bike brakes need regular maintenance - and a financial one. People who can't afford an e-bike without the incentive may not be able to afford regular maintenance, either. Bike repair can be difficult to access in many neighborhoods and rural areas, and an unrepaired flat tire can put a bike out of commission for a long time.
In other words, the program administrator needs to know more than just e-bike markets. In order to serve priority communities, they need to understand what barriers the targeted groups face, whether low-income areas have sufficient shops with the capacity to service the bikes, what they need to keep them secure from theft - and what happens if they are stolen.
Pedal Ahead's application as administrator was more focused on the importance of data collection - a topic that still has not been discussed for the statewide program - and on recommending that they be the sole bike purchasing agent "to maintain quality control and accountability through one source."
If CARB had at least discussed some of these program parameters before issuing a call for potential administrators, it seems less likely that an application so far off the mark would have been selected.
The fact that one of the co-founders of Pedal Ahead is Nathan Fletcher, former CARB board member and current candidate for state senator, had "absolutely nothing" to do with the choice, said CARB program lead Aria Berliner, adding that the team "is happy" with Pedal Ahead's outreach capabilities. CARB has stated that outreach is a main task for the administrator of the program, but how that outreach will be conducted, and who will be involved, has not been discussed yet.
When asked how people will find out about the incentives, Berliner said that they will announce the program launch online, as will other groups like CalBike. That might not be very useful in many priority communities that are not plugged in to state information. Given the plan to conduct it as a first-come, first-served program, the incentives could be snapped up quickly - as happened both times the city of Denver opened up its program.
How much time will priority groups have to apply before the $10 million (or $8 million, after program costs) in incentives are gone?
In the meantime there is no program website yet, and finding information about e-bike incentives from CARB's website is frustrating and yields meager results. Pedal Ahead itself has barely maintained an online presence, with a bare-bones and outdated website that triggers unresolvable security warnings - but at least that is currently undergoing updates.
Don't hold your breath about seeing these incentives any time soon.
Subscribe here to receive updates and notifications about workgroups from CARB. CalBike also maintains an excellent information FAQ and you can subscribe for their semi-regular updates as well.

Streetsblog California editor Melanie Curry has been thinking about transportation, and how to improve conditions for bicyclists, since her early days commuting by bike to UCLA long ago. She was Managing Editor at the East Bay Express, and edited Access Magazine for the University of California Transportation Center. She also earned her Masters in City Planning from UC Berkeley.
Read More:
Stay in touch
Sign up for our free newsletter