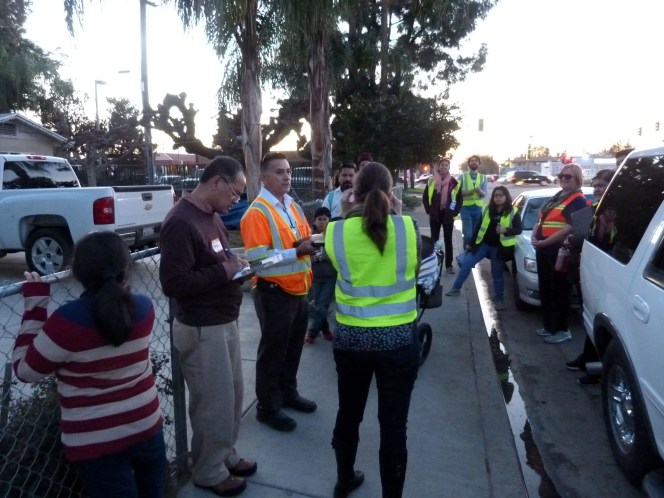 Wendy Alfsen, long-time Executive Director of California Walks, is retiring. Sort of. She has taken a new title of Senior Director, and former Deputy Director Tony Dang has moved up to take the reins of the advocacy organization.
The change is coming "at a particularly interesting time for transportation," as Dang put it. Last year's legislative session ended without an agreement on transportation funding, despite it being a top priority for Governor Jerry Brown. Now the new session has begun, but new proposals are the same as the old ones.
The national policy landscape is also full of uncertainties. "There are going to be a lot of major issues that take up a lot of air in the room," said Dang, "and transportation will likely have to take a little bit of a back seat. But that doesn't mean that [California Walks] or our partners will step back or stop working on these issues."
"The beauty of this work," said Dang, "is it's so simple: if we create communities where people of all ages and incomes and abilities can walk safely, we will create a better society. But if the transportation system doesn't work for folks, we can't relieve a lot of the societal problems that we are faced with nationally."
Dang says he is excited to be taking over as Executive Director, and Alfsen is enthusiastic as well. "Tony is doing a great job," she said.
Dang has been working for California Walks for three years, taking on increasingly more responsibility over time. Now he will also be in charge of strategic planning for the organization, which works on two fronts to advance walkable communities. At the state level, California Walks weighs in on policymaking decisions, ensuring that pedestrian concerns are included in early stages of proposed laws as well as planning and regulations at state agencies. At the local level, the organization provides training and support for communities looking to improve local walking conditions.
California Walks also hosts a biannual summit called "Peds Count!" to share knowledge and information among advocates and agencies. Its staff conducts walk audits to understand the pedestrian experience in specific places, and trains local advocates to conduct their own.
Alfsen helped found California Walks in 2003 as an informal statewide network of local advocacy groups like Walk and Roll Berkeley, where she was working at the time. Several years later she helped it become a formal organization, providing a state-level voice for local groups.
"When I first started doing this work, there were two statewide committees at Caltrans that I could work with," said Alfsen. "Now, just within Caltrans alone, there are ten or fifteen different advisory committees and working groups working on pedestrian and related issues. And then there are other state agencies like the Air Resources Board and the California Transportation Commission."
"The strategy of being at the table is important in creating the change we want: to move the transportation system to be more sustainable," said Alfsen. "But not everyone has been at the table; historically it's been restricted to the rich and powerful, and ordinary communities and citizens have been not included until recently."
When asked what her favorite projects have been during her time at California Walks, Alfsen had a hard time choosing. "I'm a personal fan of both policy and personal empowerment. Whenever those can be brought together, I'm excited," she said. One favorite project was a recent success: a youth-led community engagement project that resulted in Active Transportation Program funding for a sidewalk in an unincorporated area in the Greenfield neighborhood in Bakersfield.
California Walks had been training and mentoring youth leaders, who took charge of the project. "California Walks didn't create the idea, or apply for the grant," she said. "It was not our baby. The youth leaders did all the work of organizing and publicizing meetings, gathering signatures, making it happen. We provided some information about how to find technical expertise, and how to access resources."
"Of course, California Walks had worked to help create the Active Transportation Program and to make sure pedestrian projects were included in it," she added.
She was just as excited about state policy work she'd been involved in, including an effort to remove barriers from the vehicle code so that "senior zones"—low-speed areas near senior housing, similar to school zones—could be created more easily. She's working now with Caltrans staff to create signage standard to bring more attention to these zones, like the bright green signs and flashing lights used near some schools.
"All of this change is incremental, but it makes a big difference on the ground," she says about her policy work. "As we're developing more multifamily housing along transit corridors—and recognize that those transit corridors are also high-speed arterials—the question becomes one of how people can get across the street safely."
It's also a question of funding priorities. The U.S. has spent most transportation money making it easier for people to travel in cars. Now the country is faced with climate change resulting in part from the free and easy use of private gasoline-powered vehicles, as well as irremediable traffic congestion—and judging from the latest proposals out of the state capitol, funding priorities don't seem to be changing.
Alfsen is enthusiastic about the potential for California Walks' work to contribute to solving climate change. "And at a low cost," she says. "More than 25 percent of all trips we make in California—for shopping, errands, school, and work, every trip we make—are one mile or less, and over forty percent are five miles or less. In fact, only twenty percent of ALL trips are over ten miles—yet we invest all of our resources on those trips."
"Unfortunately, currently about half of the shorter trips are still made in single-occupant vehicles. If that could be reduced to ten or fifteen percent, we could make quite a bit of progress."
To do that, communities need to transform themselves into places where people will choose to walk those short trips. That means taking into account many factors, which, according to Walk California's website, include:
. . . elements of the built environment such as availability of continuous, level sidewalks and pathways, safe, accessible crossings, lighting vehicle speed, number of lanes and street width. Other factors that influence walking and walkability include real and perceived safety from crime, gang activity and aggressive dogs, graffiti, maintenance of trees and greenery, safe access to desired destinations (park, school, grocery, library, post office, etc.), public amenities like benches, drinking fountains, public art, restrooms, and trash cans, among many others.
That covers a pretty wide range of things that need addressing. At the same time, advocating for pedestrians can be hard for some people to take seriously. "Like breathing or drinking water, we learned how to walk when we were small children, and we take for granted. Even the word pedestrian has come mean everyday, monotonous, boring," said Alfsen.
And in transportation decision making, no one was taking notice of walking. "We have devoted our resources to funding 'limited access' travel for cars," said Alfsen, "but the only access that's been limited is pedestrian access."
"We have squandered our resources."
The irony is that, as Dang pointed out, "everybody experiences walking basically every single day. Even people who only walk from a parking garage to an office—everyone has had experiences of unsafe crossings."
As the new Executive Director, Dang plans to continue the work of building a coalition among like-minded organizations. High on his priority list is to ensure that proposals for transportation funding incorporate equitable approaches to who gets funding, and to make sure that transportation investments reflect state climate change goals, rather than merely continue to encourage current unsustainable means of travel.
California Walks will also be focusing on raising awareness among newly elected lawmakers of the importance of these issues.

Streetsblog California editor Melanie Curry has been thinking about transportation, and how to improve conditions for bicyclists, since her early days commuting by bike to UCLA long ago. She was Managing Editor at the East Bay Express, and edited Access Magazine for the University of California Transportation Center. She also earned her Masters in City Planning from UC Berkeley.
Read More:
Stay in touch
Sign up for our free newsletter