Bike Month
Bike Month in the Rest of the Bay Area: This Party is No Joke
3:46 PM PDT on May 9, 2016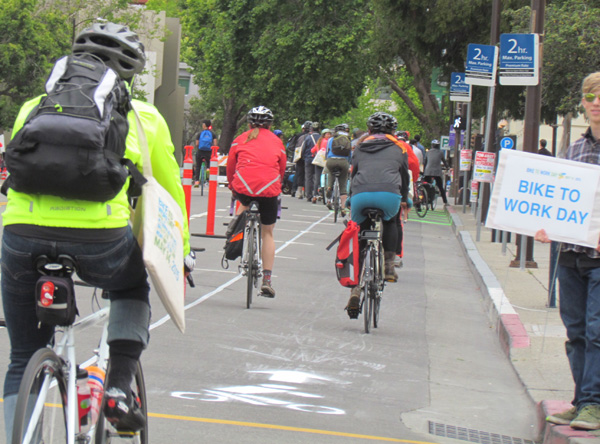 Streetsblog California has been looking around the state to see how local communities are celebrating Bike Month. Damien Newton did a podcast about Fresno's activities, and so far we previewed Sacramento's May Is Bike Month celebration as well as Alameda and Contra Costa counties, on the east side of the San Francisco Bay.
Today we look at the Bike to Work Day celebrations in other parts of the Bay Area. Every county is getting into the act, offering "energizer stations," parties, group rides, and more. The Bay Area counties will mark this Thursday, May 12, as Bike to Work Day, rather than May 20, which is the official "national" Bike to Work Day. But really, every day is Bike to Work Day, and it doesn't matter when we celebrate this holiday exactly.
According to the Silicon Valley Bicycle Coalition, more than one million Bay Area residents live within five miles of their workplace, and over 62,000 Bay Area residents use a bicycle as their primary means of getting to work every day. "Bike to Work Day is a vision of what the morning commute should look like: parents and children, teachers, restaurant workers, politicians, CEOs, all doing the unimaginable – enjoying their trips to work and school," says the SVBC website.
Lest anyone imagine that Bike to Work Day is just a feel-good gimmick, note that it does succeed in getting people on bikes who wouldn't otherwise try it—thus allowing them to see for themselves how fun and efficient a bike can be. And many of them keep riding.
In San Francisco, the SFMTA counts bike riders on various days of the year, and for a number of years has also counted riders on Bike to Work Day. Recent counts have shown that on regular commute days, bikes outnumber vehicles on Market Street—an astonishing bit of data, given how few bikes dared that street a mere decade ago. Even more astounding is that, on Bike to Work Day, more than three quarters of the vehicles on Market Street are bikes. That number keeps going up; riders on Bike to Work day increased 40 percent in the five years leading up to 2013. The increase is not limited to one day, either; now the SFMTA has automated bike counters that work 24-7, and the agency has found that the number of trips taken by bike has risen over 184 percent since 2006.
"The numbers are great news for the health of San Francisco communities, showing that more people than ever before are embracing active transportation and improving their neighbors' air quality," said Chris Cassidy, Communications Director for the SFBC. "The fact that biking is the mode of transportation with the fastest growing popularity in San Francisco is a testament to the work of our 10,000-plus members, who have advocated forcefully for more liveable, bikeable streets. That advocacy is working; our streets are getting to be more welcoming places, as the dramatic increase in the number of people on bikes demonstrates."
SAN FRANCISCO
The San Francisco Bicycle Coalition will host more than 25 energizer stations in the city, handing out coffee, snacks, and bags stuffed with coupons and other goodies. Sixteen of the stations will also have mechanics available if you need a quick bike check. Find a map of the stations here.
"Commuter convoys" will bring together riders from different neighborhoods to head downtown for work. City Supervisors are invited to join the ride with other community leaders, and staff and board members of the San Francisco Bicycle Coalition help guide the beginner-friendly routes that highlight new bike lanes and the coalition's current campaigns for bike facilities. The rides depart from various neighborhoods between 7:30 and 7:45; RSVP here for your local ride.
The convoys will all converge at City Hall for a press conference and rally from 8 to 9:30 am, with a program awarding the local bicycle-friendly business winners.
At the end of the day, don't miss the Bike to Work Day Happy Hour, which includes a lottery for a Public Bike. This will take place from 5:30 to 7:30 p.m. at Public Bikes, 549 Hayes Street.
Also in San Francisco, Bay Area Bike Share is offering free one-day memberships to people who register ahead of time.
SOUTH BAY
The Silicon Valley Bicycle Coalition is organizing more than eighty energizer stations in Santa Clara County, and Commute.org will support forty stations in San Mateo County on May 12. Also on that day, there are a number of group rides planned.
In San Mateo County, the "Elected Officials Ride" will start out at 7 a.m. from the SamTrans Administrative Offices at 1250 San Carlos Ave in San Carlos and reach Redwood City by 8 a.m., incorporating a ride on new bike facilities and a few stops to refresh at energizer stations.
Other rides that morning include a seven-mile "Movers and Shakers" ride on the Guadalupe River Trail, starting in downtown San Jose, and the Santa Clara County Public Health Department will lead a 6-mile group ride from Cambrian Park to the County's offices at the Sobrato Center for Nonprofits.
Oracle will host a bike fair from 11 a.m. to 2 p.m. in its parking lot, with barbecue to eat and electric bikes and new commuter bikes to ride.
San Jose Bike Party will hold a lunch time bike party from 11:30 a.m. to 1 p.m. at at Cesar Chavez Park in Downtown San Jose, which, because it is Bike Party, will include a brief downtown-focused Bike Party Ride at noon.
And on the other end of the day, SVBC will host a Bike Away From Work Bash from 6 to 8 p.m. at the San Jose Women's Club, 75 2 11th Street. San Mateo county will hold its first ever Bike Away From Work party from 5 to 7 p.m., hosted by the Greenbelt Alliance.
And Bike to Work Day is not the end of it: Greenbelt Alliance is also hosting a "Pop-up Bikeway" and neighborhood block party on Scott Street on May 13 and 14. There, temporary markings will give people a chance to experience what a safer, more bike-friendly Scott Street could look and feel like. The bikeway will be in place on Friday, May 13, from 7:30 to 10 a.m. and again from 4 p.m. to 7 p.m. The block party takes place on Saturday from 1 to 4 p.m.
SVBC reminds you, too—if you need to be reminded:
Don't limit yourself to just bicycle commuting to work. Try riding your bike whenever possible during the month of May. Bicycling provides a great opportunity to enjoy the fresh air and get some exercise while you go to school, visit a local farmers market, meet a friend for lunch at a restaurant around the corner, or any another destinations you may have planned.
NORTH BAY
Marin County will have twenty energizer stations, including five "Super Energizer Stations." You can find a map here.
Napa County Bicycle Coalition will host energizer stations in Napa, American Canyon, St. Helena, and Calistoga on the morning of May 12 (and an afternoon one, from 3 to 6 p.m., at the Soscol Gateway Transit Center).
It will also hold its fifth annual NapaBike Fest on May 15, from 10 a.m. to 2 p.m. It's a "celebration of all things bicycles, featuring bike rides for all ages, safety and skills workshops, bike industry demos, community activities, bike swap, and much more," including Kidical Mass and Historic Downtown bike rides. The BikeFest will take place at Oxbow Commons.
Solano County's Bike to Work Day is hosted by CommuterInfo.net. Energizer stations will be in Benicia, Dixon, Fairfield, Suisun City, Travis Air Force Base, Vacaville, and Vallejo.
And, as mentioned in the post about the East Bay Bike to Work Day, Amtrak's Capitol Corridor, which connects a bunch of the Bay Area counties, is getting in on the act as well. The Sacramento-bound train # 542 and San Jose-bound train # 543 will celebrate onboard, "in transit" Bike Happy Hours.
Bike to Work Day in the Bay Area is generally spearheaded by local bike coalitions, with funding from the MTC, 511.org, and Kaiser Permanente. It's also only possible because a lot of volunteers get out to help stuff giveaway bags, staff the energizer stations, and cheer on bike riders.
How does your community celebrate Bike Month? What's on your local agenda? Let us know in the comments section.

Streetsblog California editor Melanie Curry has been thinking about transportation, and how to improve conditions for bicyclists, since her early days commuting by bike to UCLA long ago. She was Managing Editor at the East Bay Express, and edited Access Magazine for the University of California Transportation Center. She also earned her Masters in City Planning from UC Berkeley.
Stay in touch
Sign up for our free newsletter