Report
Catching Up with the Rapidly Transforming Transportation Landscape
1:40 PM PST on December 11, 2015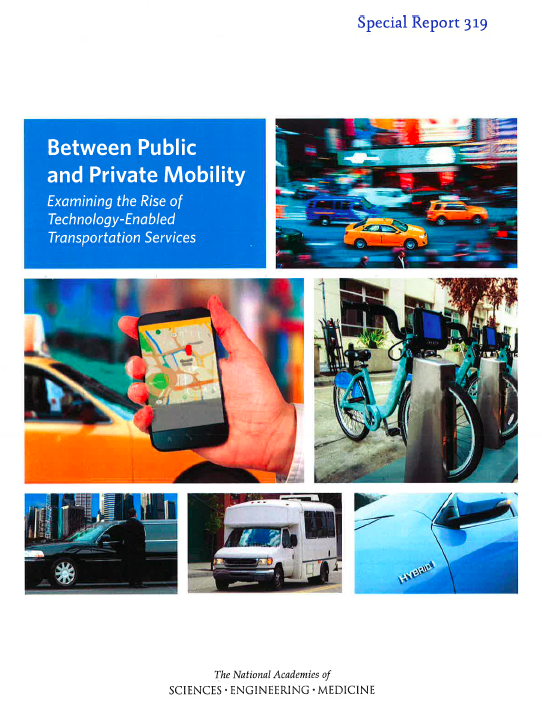 In the last few years, technological advances have been changing the transportation system in ways unanticipated and unprecedented. Bike-share and car-share offered alternatives heretofore nonexistent. Then, in swept Uber and Lyft and other "Transportation Network Companies," or TNCs, and mobile apps that could completely change the ways people move around in their communities.
The National Academies of Sciences, Engineering, and Medicine convened a Committee for Review of Innovative Urban Mobility Services to conduct a consensus study on "technology-enabled transportation services," including car-share, bike-share, TNCs, ride-sharing companies and mobile apps. Its just-released report, "Between Public and Private Mobility: Examining the Rise of Technology-Enabled Transportation Services," [PDF] raises open-ended questions about how these new services might affect current and future transportation systems, and what policymakers and planners ought to be thinking about.
And, it cautions, well-thought-out policies and consistent regulations will be needed if we are to reap the benefits of these services and avoid negative consequences.
"Our purpose," said Susan Shaheen, director of the Transportation Sustainability Research Center at UC Berkeley and one of the authors of the report, "was to study these emerging transportation services and the roles they are playing and might play in the future: to look at what do we know, and what we don't know."
"These new services have only been on the ground for three years," said Shaheen. "The committee convened eighteen months ago: at the time, there was no UberPool, no LyftLine. There was no microtransit—except for some informal services--when we started this study."
The committee studied current regulations and how they may need to be adapted, the economic consequences of (some) people having easier access to rides, questions about labor and employment, safety and security, insurance, and equity and access.
"These are evolutionary," said Shaheen, "and could completely change the way people travel, their relationships with cars, the way we use land, parking, where people choose to live. We don't have a lot of data, and there's not a lot of understanding, because these services are getting ahead of policy."
The report raises a lot of questions. How might people adopt and adapt to these new travel options? What kinds of new regulations will be needed to ensure safety, efficiency, and a level playing field? How can these new services solve, rather than add to, transportation equity and access for people who most need it?
For example, does the existence of a ride service like Uber reduce drunk driving? Perhaps, says the report:
Some evidence suggests [this], although that evidence is preliminary and in need of verification. Taxis also may have this effect, but the technologies and policies used by TNCs, including surge pricing that expands supply, may encourage better service in late-night hours.
Will people using these new services own fewer cars, take fewer trips? How will that affect parking needs and congestion?
"Reduced vehicle ownership creates a positive feedback loop in which even larger VMT reductions result," says the report.
This phenomenon occurs when car owners sense very low marginal costs in deciding whether to take a trip, since they perceive. . . costs to be limited mainly to the cost of gasoline and parking (and tolls). Evidence is overwhelming that car owners do not consider the full cost of trips in making their travel choices. If consumers [don't own vehicles and use services that charge them according to how much their trips actually cost], they may become more accustomed to considering the marginal cost of each trip, possibly thereby making fewer discretionary trips.

Reduced private vehicle ownership needs may also result in reduced parking requirements as residents reconsider their options for traveling. . . . Reduced parking needs may allow for increased densification. . . which in turn can make transit and active transportation modes (particularly walking and bicycling) more realistic options. The combination of more rational trip making and the proliferation of multirider services creates the potential for dramatic reductions in VMT—and therefore in pollution, GHGs, road infrastructure needs, and parking facilities.
However, it is also possible that the services offered by Lyft, Uber, and the like will have the opposite effect.
Convenient and inexpensive shared rides . . . may attract transit riders who currently travel in much more space- and energy-efficient buses and trains. Moreover, the lower cost and reduced driving associated with shared vehicles may induce additional trip making or longer trips, again contributing to increases in VMT, congestion, and GHG emissions.
"What form the new mobility services will take as they evolve and whether and how they will affect travel behavior and demand, the use of all other modes (including taxis and limousines), private vehicle ownership, and residential and commercial location preferences remain to be seen," the report continues, "as these options grow and serve different market segments and geographic areas." A lack of information in general about the scale, growth, and operations of these new services makes it difficult to plan for them and regulate them.
Of particular interest is the question of whether these private services will enhance or inhibit fairness and access, especially for those who currently have the most difficulty getting around.
Many segments of the population have limited access to jobs, goods, services, health care, recreation, and social interaction because of a lack of transportation options. The reasons behind this limited access are varied, including physical disabilities, low incomes, and discrimination, among others. The innovative mobility options discussed in this report have the potential to increase accessibility. . . .But they may also leave people who are already transportation-disadvantaged further behind, either because they will not be able to take advantage of these new services (making them relatively worse off) or because the rise of these new services could reduce some existing services (making them absolutely worse off).
Regulatory issues are related to this as well. If TNCs are just "ridematching and payment processing services," says the report, their obligation to accommodate special needs is unclear.
But if these services are viewed as a central new component of public and private urban transportation systems, the requirements of the Americans with Disabilities Act (ADA) may. . .apply . . . a question that has yet to be settled. . . . A related potential consequence [is that] the rise of TNCs could result in a net loss of wheelchair-accessible vehicles if other services operating these vehicles are reduced or driven out of business by TNCs.
"There's been so much discussion about the transformative potential--the disruptive potential--of existing transportation services by the arrival of tech-enabled services," said Shaheen. "But we don't yet know what those changes are, in part because the landscape is changing so rapidly" and researchers are having a hard time keeping up.
"This hasn't happened a lot in transportation; usually change is incremental. Now it's almost the opposite of that," said Shaheen. "In terms of the policy environment, things have evolved notably since we conducted the study."
The big questions are what are the truly transformative changes these technologies might bring. So far, there isn't widespread evidence of transformation. Yet.
"What potential could there be if people really do change their behavior?" asked Shaheen. "And is that going to happen? These are pretty important policy issues that need to be addressed, particularly as these services grow, in case this transformation is indeed occurring."
The study concludes with general recommendations for policymakers and others to consider, including the responsibility to steer these new technologies towards improving access while minimizing environmental costs. These include recommendations to revisit existing regulations, like the inconsistent regulatory landscape for taxis, and find ways to make them more consistent and fair.
Policymakers must also, say the report's authors, find ways to integrate these new services into existing transportation systems, including transit.
And, as always, more research is needed. Policymakers should identify the information they need and require companies to provide it to them, so that this planning process becomes less of a guessing game.

Streetsblog California editor Melanie Curry has been thinking about transportation, and how to improve conditions for bicyclists, since her early days commuting by bike to UCLA long ago. She was Managing Editor at the East Bay Express, and edited Access Magazine for the University of California Transportation Center. She also earned her Masters in City Planning from UC Berkeley.
Read More:
Stay in touch
Sign up for our free newsletter