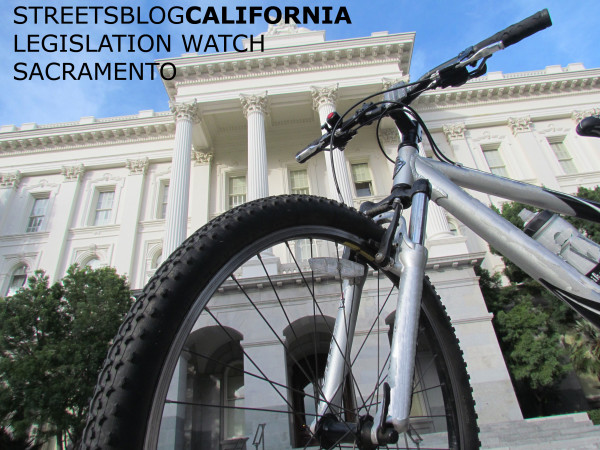 This week in Sacramento, policy committees are rushing through a last-minute load of bills. The July recess is looming, and this week is the last opportunity to pass bills in the 2015-16 session. That has led to limited public discussion in some committees, with committee chairs admonishing attendees to keep remarks short. Meanwhile amendments are being proposed, revised, and refined behind the scenes.
The biggest recent news is that Governor Brown signed the state budget, thus meeting the legal deadline to do so. But while the budget is officially complete, there are still some big holes in it.
For example, it includes no provisions for expanded transportation funding, including no increase in funding for the Active Transportation Program. The Transportation Special Session, called last year to find agreement on the issue, has not met for months and it is unclear whether it will meet again before the end of the session.
Also, no decisions about allocating cap-and-trade funds in the Greenhouse Gas Reduction Fund (GGRF) have been made. Last year, almost half of those revenues were left unallocated, and the same is true for this year's budget. The total revenue available in the GGRF is unpredictable, given the volatility of the cap-and-trade auctions that feed it, but current spending plans divvy up the money by percentage, so there is nothing to prevent the legislature and the governor from allocating it—except an inability to agree on priorities.
Bills that passed policy committees this week now go to appropriations committees before being sent to either the Senate or Assembly for a vote by the entire membership. Some of the ones that recently moved ahead:
Transit Pass for Low-Income Students: Assemblymember Chris Holden's (D-Pasadena) bill A.B. 2222 calls for a statewide program to provide free transit passes for low-income students. It has been sailing through various policy committees. Last week A.B. 2222 passed the Senate Transportation and Housing Committee, but several members abstained from voting, including Senator Bob Wieckowski (D-Fremont). He is the chair of the Environmental Quality Committee, and the bill had to pass that committee this week, so there was some concern about whether it would move forward. In the end, though, Wieckowski voted in favor of the bill and it passed the Environmental Quality Committee this morning with no votes against it.
The sticking point was the source of funding. The bill originally called for using the GGRF to pay for the program, since getting students to shift from driving—Holden says they are the "largest drive-alone population in the state"—has the potential to greatly reduce greenhouse gas emissions. But there are existing student transit pass programs, which is how we know they are successful in reducing driving, and those existing programs could be eligible for statewide funding under this new program. The GGRF, though, requires its programs to produce new greenhouse gas reductions, and it cannot be used to fund programs that are already working.
So the solution was to eliminate references to the GGRF, and put off the question of funding for now. How that fits into the already-signed budget deal, however, remains unclear.
Active Transportation Planning and Programs: Another key bill was Richard Bloom's (D-Santa Monica) A.B. 2796, which passed the Senate Transportation and Housing Committee with a lot of support and no opposition. A.B. 2796 would require a certain percentage of Active Transportation Program funds to be used for planning and programming. Although every year the program has awarded some funds for those uses, it has been a shrinking percentage. Also, several California Transportation Commission members, who oversee the allocations, have stated that they prefer to fund infrastructure.
But infrastructure cannot happen without planning, and many communities lack the capacity to gather robust public input so they can create strong, community-supported plans. Without good plans, there is little opportunity for communities to develop meaningful projects that can make the most of the ATP funding. In addition, programs—including Safe Routes to Schools and open streets events—are key ways to encourage people to try biking and walking.
This bill originally called for allocating at least five percent of the ATP for planning in disadvantaged communities, and at least ten percent for "noninfrastructure" programs such as Safe Routes to Schools. It has been amended to reduce the funding targets for both to a total of ten percent, with at least half of that for planning.
Another important amendment allows local jurisdictions to use their own funds to finish an ATP project early and get paid back later from the program. This should be useful for communities that are ready to go, since any municipalities that were awarded ATP funds in the current round, which just closed June 15, will not see any money until 2019 at the earliest.
The bill also adds language making it clear that non-infrastructure projects are an integral component of the Active Transportation Program—that ATP is not limited strictly to building things.
Distracted Driving: Another traffic-safety-related bill that passed the Senate Transportation and Housing Committee is A.B. 1785 from Assemblymember Bill Quirk (D-Hayward), which would make it illegal to use any electronic communications device while driving unless it is attached to the windshield, and the only interaction with it is a quick swipe or tap. Its intent is to close a loophole in current law that allows people to avoid tickets by claiming they were not talking on the phone or texting while driving—even though they may have been sending an email or perusing their Facebook feeds, which are not technically illegal. Yet.
This bill does not get at the problem of distracted driving, and Quirk admits as much, saying that a wider discussion of the subject is necessary. What is needed is the wholesale prohibition of any use of any electronic device while driving, period. Instead the state legislature got a discussion of what counted as being "attached" to the car and whether law enforcement can see what people are doing well enough to enforce the bill's provisions.
At least the bill, weak as it is, passed this committee with no opposition.
Equity in Climate Change Policies: Assemblymember Eduardo Garcia (D-Coachella) has been actively working on equity issues in state policies, and a few of his bills include:
A.B. 197 calls for the California Air Resources Board to adopt measures to reduce greenhouse gas emissions in "the most technologically feasible and cost effective matter possible" while accounting for "the societal costs" of climate change.
A representative of the Western States Petroleum Association, California's biggest oil industry lobby group, opposed the bill in the Senate Environmental Quality Committee hearing today, saying the bill's proposal for direct controls on emissions are "the most expensive pathway to reducing greenhouse gas emissions"—as compared to the current cap-and-trade system, which he called "the most cost-effective way to control GHGs." It is always interesting to hear WSPA extol the virtues of cap-and-trade, a system the group otherwise does its best to undermine.
Meanwhile WSPA tried to raise alarms that the bill's language did not specifically define what constitutes "social cost." "That should concern you," the representative told the committee members. He said that by allowing, rather than requiring, a "market-based mechanism"—that is, cap-and-trade or something like it—the bill was too vague and could lead to expensive restrictions on businesses.
Senator Fran Pavely shot down his objections. A.B. 32, the state's original Global Warming Solutions Act, she said, "did not articulate all the embedded policies for reducing greenhouse gases" and "did not mandate market-based mechanisms; that was left up to this and future legislatures to figure out."
"This bill and S.B. 32 [the update to A.B. 32 currently wending through the legislature] work very well together," she said. "This bill is a thoughtful way to achieve the co-benefits that were written in to A.B. 32, recognizing that the link between public health and climate change is real." Those co-benefits, she reminded everyone, were to first reduce greenhouse gas emissions, second to improve public health, and third to create in-state jobs.
A.B. 197 passed the Environmental Quality Committee, but another of Garcia's bills didn't fare so well. His A.B. 2783 called for an exception for rural communities that have trouble qualifying for funds from the Affordable Housing and Sustainable Communities program because they can not meet that program's density requirements. The AHSC, the only current state source of money to build affordable housing, is funded by the GGRF, which means it is supposed to contribute to reducing greenhouse gas emissions.
Committee Chair Wieckowski talked about traveling in Poland, where he says "there are a lot of high-density communities in rural areas, clustered around train stations, and functioning well. It's a possibility that exists—and it's what we want to achieve with our climate change goals." He voted against the bill, and at last count it only had two votes and will likely die in committee.
Email tips, alerts, press releases, ideas, etc. to melanie@streetsblog.org.
For social media coverage focused on statewide issues, follow Streetsblog California @streetsblogcal on Twitter, or like our Facebook page here.

Streetsblog California editor Melanie Curry has been thinking about transportation, and how to improve conditions for bicyclists, since her early days commuting by bike to UCLA long ago. She was Managing Editor at the East Bay Express, and edited Access Magazine for the University of California Transportation Center. She also earned her Masters in City Planning from UC Berkeley.
Stay in touch
Sign up for our free newsletter